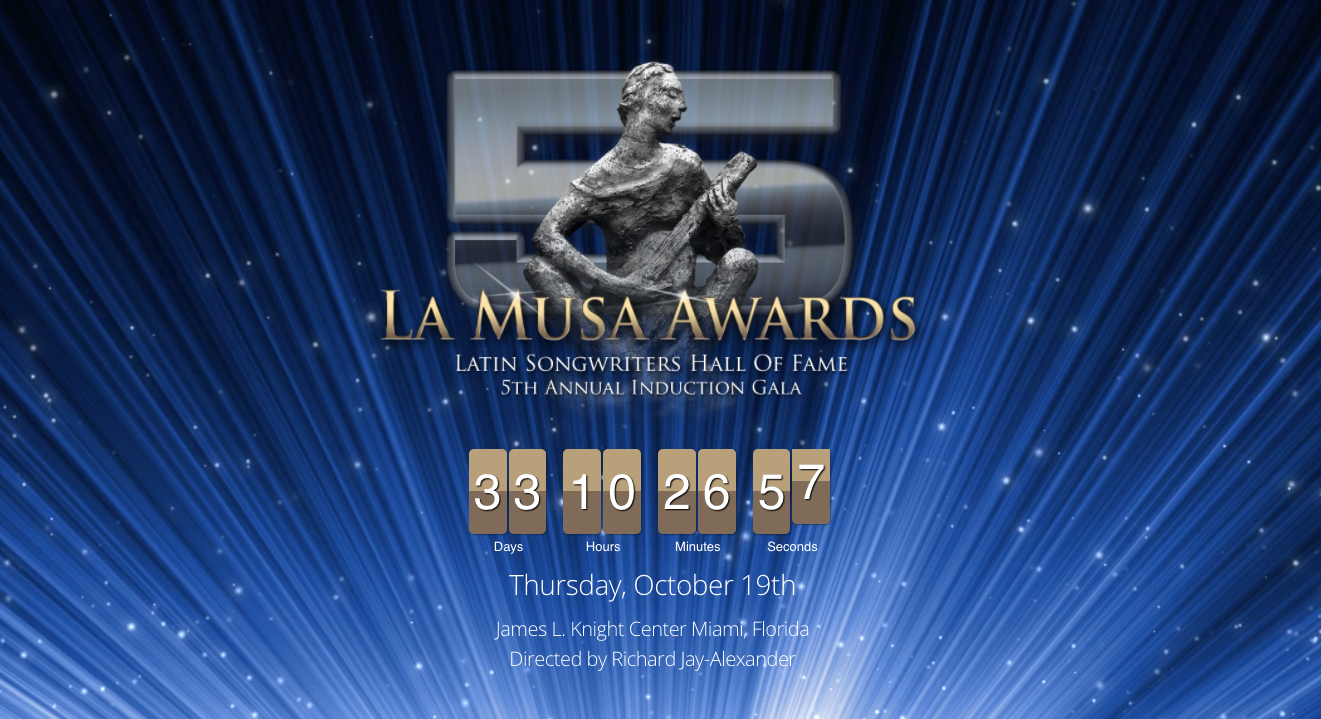 Dear Members, Friends and Supporters…
Here at Latin Songwriters Hall of Fame we are back in business and it's full steam ahead with our 5th Anniversary LA MUSA AWARDS on October 19th 2017 at the James L. Knight Center in Miami!
The La Musa Black Carpet VIP dinner and show seats are going fast but we also have amazing theater seating still available. Every seat in this premier venue is great. So if you haven't done so already, please reach out to Betsy Pérez to purchase your VIP dinner tickets and congratulatory ads in our LA MUSA 5 event program book. The prices and specs are listed here and we can also help you design your tax-deductible customized ad that will show your favorite honoree how much you care. We know it would mean the world to them.
If you can't make it to this year's gala please consider donating blocks of tax deductible general admission tickets (10 to 100) in your name which will be listed in our program. We will distribute these donated seats to music students at local high schools and colleges as well as residents of assisted living communities.
We sincerely thank you from the bottom of our hearts for continuing to support our noble mission… to shine the global spotlight on the true un-sung heroes of Latin music… the songwriters.
Abrazos!
Desmond & Rudy
Desmond Child, Chairman/CEO
Rudy Pérez, President/Co-Founder
General Admission Tickets
Ticket Donation Program
Program Book Advertising
Sponsorship Opportunities
VIP Tickets/Tables or call 305-794-4020
Betsy Pérez, Executive Director
————————————————————————————–
Estimados Amigos,
Todos aquí en el Latin Songwriters Hall of Fame (El Salón De La Fama de Los Compositores Hispanos) estamos de regreso y trabajando arduamente en nuestro 5to aniversario de LA MUSA AWARDS este próximo 19 de octubre de 2017 en el James L. Knight Center en la cuidad de Miami.
Los boletos exclusivos para nuestra alfombra negra VIP, cena y show se están vendiendo rápidamente, pero aún tenemos muy buenos boletos disponibles. Si aún no han separado sus boletos por favor contacten a Betsy Perez, quién los ayudará con esto.
Si por algún motivo no pueden acompañarnos este año, por favor consideren una donación.
Abrazos!
Desmond & Rudy
Desmond Child, Chairman/CEO
Rudy Pérez, President/Co-Founder
General Admission Tickets
Ticket Donation Program
Program Book Advertising
Sponsorship Opportunities
VIP Tickets/Tables or call 305-794-4020
Betsy Pérez, Executive Director