The Beginning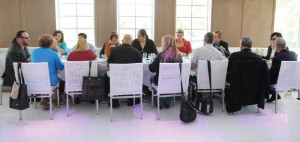 Leaders in the Latin Music Industry joined together on October 18th, 2012 at the Marlin Hotel in Miami Beach to establish the Latin Songwriters Hall of Fame which is dedicated to educating, honoring and celebrating the lives and music of the world's greatest Latin songwriters and composers. Along with the Masterclass In The Round series, workshops and scholarships one of the many functions of the Latin Songwriters Hall Of Fame is to recognize those whose work represents a spectrum of the most beloved songs in Spanish and Portuguese.
Each year the Latin Songwriters Hall of Fame inducts a slate of songwriters at the LA MUSA AWARDS Induction Gala that have been recognized throughout the world. These Inductees are selected from the pantheon of living and posthumous Latin Music greats and also honors those who have had a significant impact on the evolution, development and perpetuation of Latin music, language and culture.
To be eligible for induction into the Latin Songwriters Hall of Fame, the songwriter, composer or lyricist must have had their first significant world renowned song or composition released commercially, in the generally accepted sense of that phrase, at least 20 years prior to the year of induction; and have demonstrated unquestionable musical excellence. We also consider factors such as an artist's musical influence on other artists, length and depth of career and the body of work, innovation and superiority in style and technique, but musical excellence shall be the essential qualification of induction.