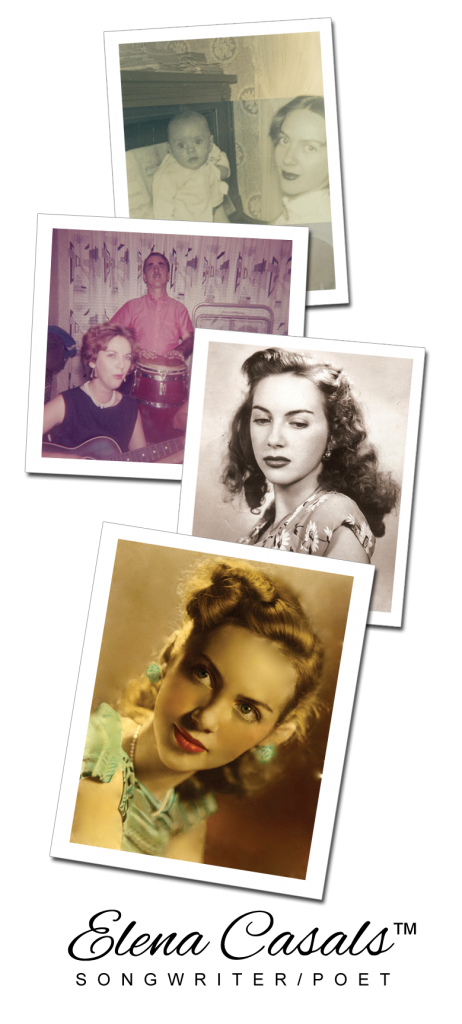 My mother, the late Cuban songwriter and poet, Elena Casals, was a fabulous blonde… tall and thin, with lucious lips and huge blue-green eyes. Her charm and movie star looks could melt any man that crossed her path. She was a strong independent woman, down to earth, funny, warm and loving. But til the end, "Mimí", as she was affectionately called since she was a child in her home town of Pinar Del Rio, was always an artist first and never cared about money. The only thing she wanted in life… until her last moments… was to listen to her poems read to her, re-writing a word here and there along the way, and to listen to her Boleros recorded by legends such as Roberto Ledesma, Lucho Gatica and La Reina Del Bolero, Olga Guillot, who recorded her song "Doña Tristeza", on her final album. That song was also recently recorded by Concha Buika.
Whenever my mother entered any night club in Miami, San Juan or Mexico City, pianists and orchestras would stop and begin playing her songs.
Elena Casals was one of the founders of the Society of Cuban Composers and Authors in Exile, along with the genius and great personality José Carbó Menéndez, and a great friend from the days of her youth in Havana … the Cuban composer Concha Valdes Miranda. I was the boy sitting on the edge of the stairs, who did not want to go to sleep when they all gathered in our humble little government project house in Liberty City, for the poor and Cuban refugees. My aunt Olga, Olga Guillot the Queen of the Bolero, with her then husband, my Uncle Bebo Rodriguez, my mother's brother (who sang in the famous Tropicana Nightclub vocal group Los Bucaneros in Havana), would come to visit us from Mexico, and I remember that they always organized fun and raucous all night jam sessions. I remember the jokes and the laughs between drinks and cigarettes (when smoking was still healthy). And also, when they premiered, gathered there in our home, their new songs, the same songs that today are now classics. I have never forgotten how they recited, trembled, cried and shouted their patriotic poems and anthems dedicated to the island of Cuba…the mythological paradise they had lost. All this was without a doubt, what inspired me to become a songwriter.
When she sailed on in 2012, I felt a strong the need to do something to celebrate the life and music of all Latin composers, especially the many like her, who have lived in the shadows of the great artists they wrote for, and thereby honoring her memory. Encouraged by my colleagues on the Board of Directors of the Songwriters Hall Of Fame in New York, I joined songwriter / producer Rudy Pérez to create his longtime dream to establish the world's first Latin Songwriters Hall Of Fame. In 1954, the American sculptor Lee Burnham… sculpted the original clay statuette of 'La Musa', using as her model, my beautiful and bohemian mother who had become her muse. In 2013, LA MUSA was re-sculpted by renowned Nashville-based artist Alan LeQuire, to become the official trophy for the Latin Songwriters Hall Of Fame. The 'Premio La Musa' is awarded each year to Latin songwriters and composers, inducted into the Latin Songwriters Hall Of Fame at the LA MUSA AWARDS.
So my beloved mother Elena Casals… always was and always will be… LA MUSA.
Desmond Child