By Kristina Puga, NBCLATINO.com (Original Article)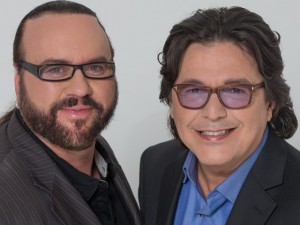 When "Livin' la Vida Loca" comes on the radio, most people solely give credit to Ricky Martin, not realizing that without songwriters Desmond Child and Draco Rosa, there would be no lyrics to the popular, upbeat song. That is one of the reasons Cuban immigrant songwriter/producers in the American mainstream for more than four decades, Desmond Child and Rudy Perez, fought so hard to create a Latin Songwriters Hall of Fame. It finally came to fruition in October of 2012, and on April 23, the first awards gala will be held in Miami honoring seven iconic songwriters, including Manuel Alejandro, Jose Feliciano, Jose Angel Espinoza "Ferrusquilla," Julio Iglesias, Armando Manzanero, Concha Valdez Miranda, and post-humous inductee Roberto Cantoral.
"It's been a hard road," says Perez, who has dedicated the past 16 years to establishing this non-profit. "It's based on the admiration [for] all the great songwriters that paved the way in Latin songwriting. We've done a lousy job in the Latin world in documenting our musical history." He says he wants to make sure people understand the Latin Songwriters Hall of Fame is not just another awards show.
"It's not the 'Album of the year,' or 'Song of the Year,' it's the trajectory of a whole life," says Perez. "In order to quality, your hit song has to be 20 years old to even be considered." And the muse for the actual silver award given to the inductees is the image of Child's own mother — Cuban composer Elena Casals, who passed away last year.
"She was a songwriter and lifelong member of BMI, and she had many crossover songs, including ones for Olga Guillot, Roberto Ledesma, and Lucho Gatica," says Child. "I wanted to do something to honor her and songwriters like her." He says his mother was his muse and the reason he is a songwriter.
"She taught me how to look at the world through the eyes of an artist," says Child. "I've always been able to hear melodies inside of my heart, and I attribute that to her. She was always writing songs when I was little." Child grew up amidst Cuban greats in the music world, and to him, the Latin Songwriters Hall of Fame is a way to remember them.
"Olga Guillot — she was the Queen of Bolero, and she's also called the voice of Cuba — she was actually my aunt," says Child. "My mother wrote songs for her…She passed away two years ago, and we're honoring her with the Legacy Award."
Concha Valdes Miranda, he says, was his mother's best friend, who immigrated to the U.S. from Cuba with them. "They started the Society of Cuban Songwriters and Composers in Exile, along with the legendary Carbo Menendez," says Child. "Every week all the members would meet in our little house in the projects. I was the little kid at the top of the stairs who didn't want to go to sleep. I'm very pleased that she's one of the first inductees in the Latin Songwriters Hall of Fame."
There will also be special awards presented to Draco Rosa, Prince Royce and Olga Tañon, to name a few. "Buika will be closing the show with 'Besame Mucho' — one of the most recorded and performed songs in the world, written by Consuelo Velasquez," mentions Child.
Perez says one of their biggest goals as an organization is to launch museums in New York City, Miami, Mexico City, Buenos Aires and Madrid, and to also inspire future songwriters — especially girls.
"I don't know why, but this has always been a boy's art form," he says. "We want to change that. We want to inspire the next generation of female songwriters and really get involved. We want to be in the schools and be very present in the educational front. We want to honor and preserve the careers of the great, but also inspire the future songwriters."