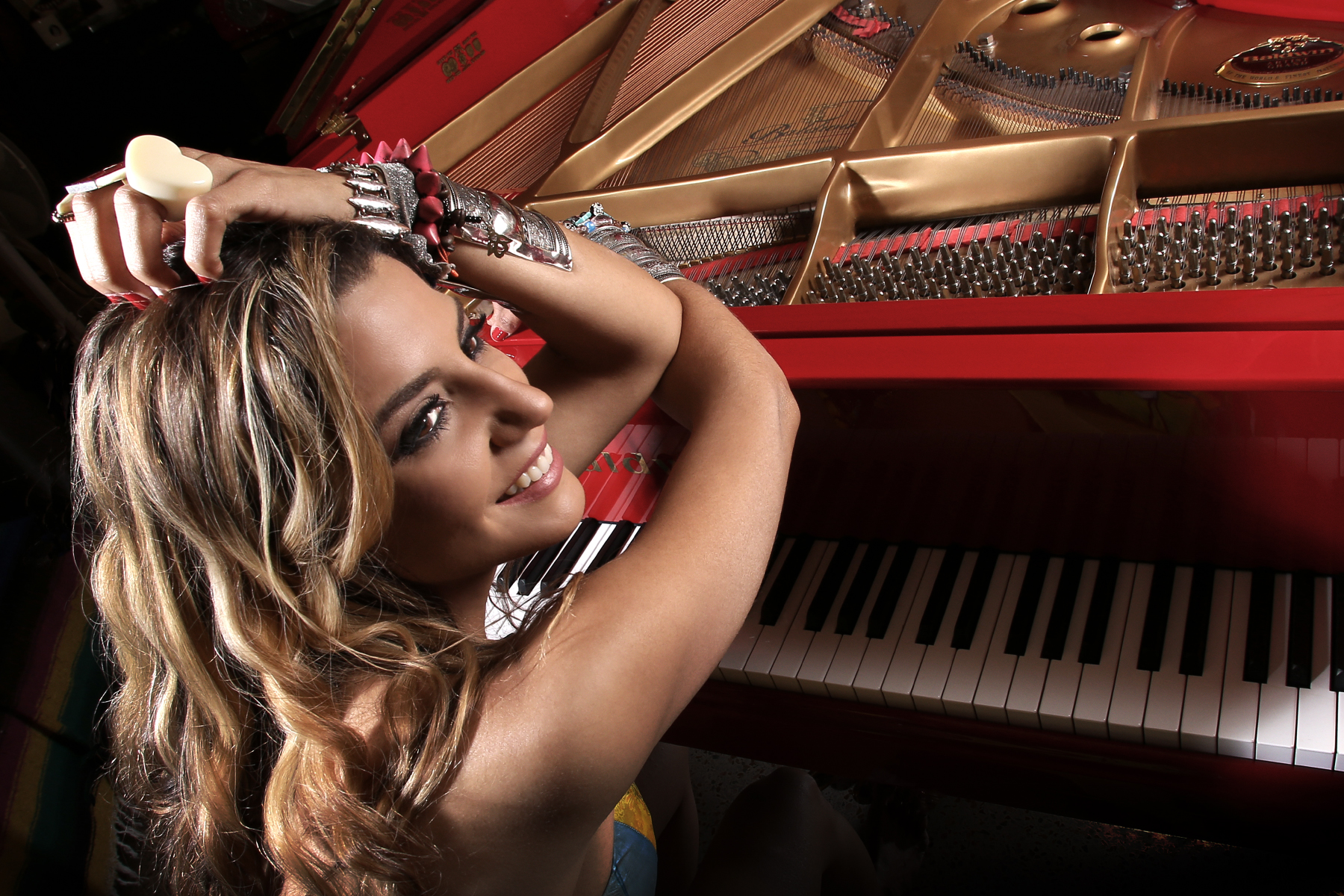 Latin Grammy award winning songwriter/singer, Lena Burke will perform at the 4th Annual LA MUSA AWARDS Thursday, October 13th at The Fillmore Miami Beach Jackie Gleason Theater. Burke will join a host of other stars including Mario Domm, Luis Fonsi, Kany Garcia, Leslie Grace, Larry Harlow, Cachita Lopez, Milagros Luna, Yotuel, Jorge Mejia, Gabriel Mores, Sam Moore, Tito Puente Jr., Danny Rivera, Jorge Santana And Jon Secada…among others.
Burke has worked with such artists as Gloria Estefan, Julio Iglesias, Jennifer Lopez, Thalía, Jaci Velasquez, Chayanne and Alejandro Sanz, among others.
The 2016 LA MUSA AWARDS will be held on Thursday, October 13th at The Fillmore Miami Beach Jackie Gleason Theater, hosted by Javier Romero, directed by Richard Jay-Alexander, conducted by Eduardo Marturet (Miami Symphony Orchestra) and presented by WorldArts (WorldArts.com).
Lena Burke
A perfect day for LENA … "Is to wake up with the idea of a new song hovering in my mind, and sit at the piano to work on it until it's done."
LENA was born a February 18 in Havana, Cuba; descendant from two myths of the Cuban music, Elena and Malena Burke. Her first musical notes were recorded when she was 2 ½ years old, followed by guitar lessons at 5 under the tutelage of her father, the versatile musician and producer Rey Nerio. She studied 11 years of classical piano in Havana, the first 7 at Conservatorio Manuel Saumell, graduating with honors afterwards, from the prestigious Conservatorio Amadeo Roldan. During the process of her musical studies, she discovered a hidden treasure… her voice.
Her name has always been part of an important circle of musicians and artists, first due to her unique musical heritage and professional studies, and then as a studio-background vocalist to major musical productions of top Latin singers as: Plácido Domingo, Chayanne, Alejandro Sanz, Jennifer Lopez, Gloria Estefan, Julio Iglesias, etc. In the meantime, always writing and composing a myriad of songs, which later on takes her to the next chapter in her career- a solo artist working on her first musical production-.
Alejandro Sanz was the linkage for making her first album become a reality. After meeting her in Miami while recording the vocals of his production "No es lo mismo", he expressed special interest in her career and introduced her to his record label, Warner Music Latina. Everything changed for LENA since that fortunate day in 2003. Several months later she was working with two of the top music producers, Emanuele Ruffinengo and Bob Benozzo, at a recording studio in Milan, Italy.
The album, filled with rich Caribbean rhythms and the essence of her constant companion, the piano, was the result of 12 songs written and composed by LENA which included her first hit single "Tu corazón", a duet with her mentor, Alejandro Sanz.
With the international debut of her self-titled album in early 2005, LENA dedicated herself completely to promote her music; intense work that took her to México, Colombia, Argentina, Chile, Honduras, France, Brazil, Spain, Puerto Rico, and to the main cities in the states. The other two singles from the album, "Puedo jurarlo" and "Qué sería de mi'", also reached top positions in videos and radio channels, while harvesting fans, applauses and the approval of the press and the music industry.
Since the launch of her career, the world famous pianos Baldwin have supported her music, naming her the first Latin female musician to represent the brand; due to this endorsement she was invited to perform at NAMM 2005, the internationally renowned musical products conference. That same year, she participated in the prestigious MIPCOM television conference held in Cannes, France, and sang at the "Person of the Year" tribute during the "Latin GRAMMY Awards" celebrations.
In 2006, LENA received two nominations for the prestigious Latin GRAMMY Awards: "New Artist of the Year" and "Recording of the Year" for "Tu corazón"; she also earned a nomination as "New Artist of the Year" at "Premio Lo Nuestro" (Univision Network' top music awards).
Due to her frequent presentations throughout Spain, in early 2007 she captures the attention of a film maker and receives an offer which becomes a great challenge and opportunity, and takes her to the next level of her career; the main role in the independent film "LA MALA". A Spain-Puerto Rico production, dedicated to the memory of the internationally renowned Cuban artist, La Lupe.
The soundtrack of the film was produced by LENA and her father, Rey Nerio (Julio Iglesias, Chayanne, Alexander Pires). Besides adapting eight of La Lupe's hit songs as "Que te pedi", "Puro teatro" and "La tirana", she included two of her own songs written and composed especially for this production: "Que puedo hacer" and "Cosas de la vida".
The release of the film in mid-2008, bring her back to appearances and performances at an international level. During that year and 2009, she is invited to film festivals in Los Angeles, Miami, and Puerto Rico; the movie is shown in many cities including New York, Chicago, again in Miami, receiving warm praise from the press and the audience. In Spain, it participated at the International Film Festival 2008 in Ibiza where it was honored with the acclaimed prize "Maltese Falcon" – The Audience Award; also at the prestigious Festival de Cine- in San Sebastian, and at the 53rd edition of "The Seminci" Festival de Cine – in Valladolid. LENA received the "Best Female Performer Award", at the XXIX Mostra of Valencia also in 2008.
LENA has the ability to capture varied audiences… embracing them with her diverse talents, interpretative strength, charisma and humbleness; she excels at each of her solo performances, as well as when she shares the stage with other artists. Memorable was her appearances in 2006 at the prestigious Auditorio Nacional in México City and at the impressive Coliseo de Puerto Rico José Miguel Agrelot, opening for Sin Bandera; at The Miami Arena with Alejandro Sanz, and during her performance in Spain for over 25,000 people during Valladolid Latino 2006, where she returned in May 2009, to share the stage with Laura Pausini, Luis Fonsi, La Oreja Van Gogh, among other top Latin artists.
The summer of 2009 was enriched with shows in many cities around Spain (Valladolid, Salamanca, Burgos, Madrid, Zamora, Avila, Leon, Segovia, and Ponferrada). In September she had her first concert in her city- Miami. During the end of 2009 beginning of 2010, visited Panamá and Colombia for special appearances in El Telemaratón de Panamá and El Festival de las Artes de Barranquilla. Recently LENA participated in an HIV awareness national campaign and in the production of "Somos el mundo" and "Que Cante la vida"; the revenues from both recordings will go towards helping the victims of the disasters in Haiti and Chile.
In February 2011, Lena recorded with Alex Ubago and Jorge Villamizar, her third musical production: ALEX, JORGE y LENA. This album of 12 songs, written by the three songwriters, was released internationally on September 21, and led the trio to multiple presentations in México, Chile, Colombia, Panama, Spain, Argentina, Costa Rica, Puerto Rico, the main cities of the U.S., etc…
From this album produced by Aureo Baqueiro (Alejandro Fernandez, Sin Bandera, Aleks Syntek), three promotional singles have been released: "Estar contigo", "La Canción del pescado" and "Si ya no tengo tu corazón" (written by Lena), achieving Gold Record status for its sales in México, digital Gold Record for "Estar contigo" in Argentina, and a nomination to Premios Lo Nuestro 2011, as "Group of the Year", among other accolades. Alex, Jorge and Lena's music videos have accounted for more than 20 million digital hits, making them international favorites among the general public, as well among their colleagues, with a nomination for "Album of the Year", for the 2011 Latin GRAMMY Awards, and taking home the prestigious Latin GRAMMY as "Best Pop Vocal Album Duo or Group".
2012 started hectic for the Trio, receiving two nominations to important music awards: "Group of the Year" to Premio Lo Nuestro 2012 and as "Revelation" to Premios Oye México. They also completed a 7 city tour in Chile, including participating at the popular Festival de Iquique sharing the stage with other big Latin music names, and taking home the festival's prize (La Boya). They also launched a special edition of the album in México and in other Latin American countries. This edition of the award-winning production includes a DVD of the singles' videos, live concerts footage, and two unreleased tracks including the promotional single "Eso eres tú", written by Lena.
The trio will continue to do presentations as ALEX, JORGE y LENA, as they spend more time in the production of their individual albums. LENA is presently working on her fourth musical production, and collaborating with other writers and performers.
LENA … her music is an endless journey… an incessant growing experience, a family legacy, a reflection of feelings via musical notes filled with worldly influences. As she describes it…"I did not choose music … she chose me."
###
http://www.lenaburke.com
http://www.myspace.com/lenaburke
http://www.facebook.com/LenaOficial
http://www.twitter.com/lenaburke
http://www.alexjorgeylena.com