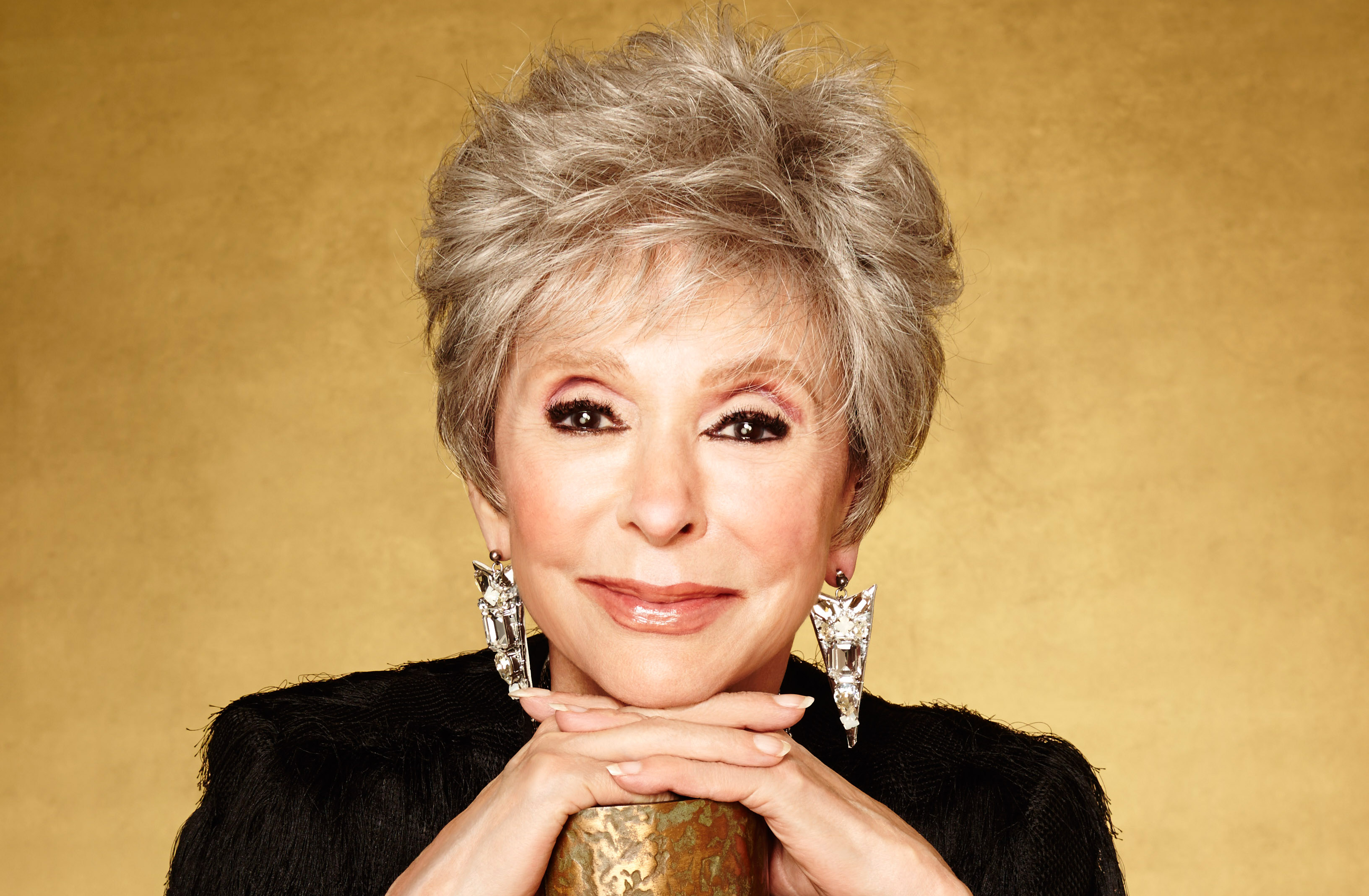 2015 LA MUSA AWARDS will be held at The Fillmore Miami Beach Jackie Gleason next October 15th
The non-profit organization will also recognize six of the world's most influential Hispanic songwriters and composers
Miami, Fla. (August 7, 2015) – The iconic Puerto Rican actress and singer, Rita Moreno, will be honored with "LA MUSA LEGACY AWARD" by the Latin Songwriters Hall of Fame (LSHOF), during the 3rd Annual induction gala LA MUSA AWARDS to be held next October 15th in Miami Beach.
Rita Moreno is one of the most legendary Latina superstars in the entertainment business as well as one of the most influential personalities during the last seven decades. Moreno belongs to an elite group of only eight living artists who have won the EGOT, the most important arts and entertainment awards: an Oscar (1962), 2 Emmy's (1977 and 1978), a Tony (1975), and a Grammy Award (1972). Moreno's prolific professional career has also been recognized with a Star in Hollywood's Hall of Fame, the National Medal of Freedom in 2004, the National Medal of Arts by President Obama in 2010, the Screen Actors Guild Life Achievement Award in 2014, and the Kennedy Center Honors in December.
At her 83 years young, Rita Moreno remains as one of the busiest stars in the entertainment industry. In June she served as the 2015 Grand Marshal of the National Puerto Rican Day Parade and in September, Rita will be the voice of "Abuelita" in the new NBC-Sprout animated series, Nina's World. Last year, Rita was the voice of Aunt Mimi in the animated film, Rio 2, and her first book, Rita Moreno: A Memoir, published by Celebra Books, instantly became a New York Times Bestseller. To add to the legendary star's busy schedule, she will be releasing. for the first time ever a Spanish album, Una Vez Más,
produced by Emilio Estefan and will be released by Sony Music in September.
In addition to film, stage, television and concert commitments, Ms. Moreno fills her spare time by lecturing to various organizations and university audiences and is also involved with a number of civic and charitable organizations and events. Ms. Moreno has served on The National Endowment for the Arts and as a Commissioner for The President's White House Fellowships. She has also served as a member of The President's Committee on the Arts and Humanities.
The Latin Songwriters Hall Of Fame honors legendary performers who have shined the spotlight on Latin music and culture throughout their distinguished careers with the "La Musa Premio Legado" ("La Musa Legacy Award"). This year's honorary award will be presented to Rita Moreno who will be its second recipient. The first "La Musa Premio Legado" was presented posthumously to Bolero legend Olga Guillot at the inaugural LA MUSA AWARDS in 2013.
LATIN SONGWRITERS HALL OF FAME 2015 INDUCTEES
This year the Latin Songwriters Hall of Fame will also induct six of the world's most influential Hispanic songwriters and composers of all time:
Hector Ochoa Cárdenas (Colombia) * Emilio Estefan (Cuba)
Myriam Hernandez (Chile) * Gustavo Santaolalla (Argentina)
Alvaro Torres (El Salvador) * Diego Torres (Argentina)
The October gala will recognize these legendary music creators and their unforgettable songs written in Spanish and Portuguese as well as feature moving tributes and musical performances by some of the industry's most important talents. Additional special honorees and presenters will be announced in the upcoming weeks.
LA MUSA AWARDS will be held on October 15 at The Fillmore Miami Beach Jackie Gleason Theater in Miami Beach. Gala VIP reception, dinner and show tickets can be purchased at the LSHOF's official site:
https://www.latinsonghall.com/
General admission tickets can be purchased through Live Nation: http://concerts.livenation.com/event/0D004EF7BA6E8A49?c=EML_LN_720847&camefrom=EMLN_720847
About Latin Songwriters Hall Of Fame:
The Latin Songwriters Hall of Fame is a 501c3 non-profit organization established in 2012 by renowned songwriter/producers Desmond Child and Rudy Pérez whose mission is to educate, honor and celebrate the lives and music of the world's greatest Latin Songwriters and composers and inspire new generations of music creators.
Media Contacts:
Angela Rodríguez
AR Entertainment
Vice Chairperson of Media and Public Relations
Latin Songwriters Hall of Fame
acrent@aol.com