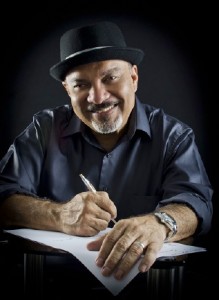 Luis Enrique, Beatriz Luengo, and Ángel López will take part in a musical journey celebrating the Panamanian composer's greatest hits
Miami, Fla (October 8, 2014) -This year, Omar Alfanno, considered one of the best Latin American composers of the past three decades, will be inducted into the Latin Songwriters Hall of Fame (LSHOF).
Grammy winner Luis Enrique, Spanish singer, songwriter, and actress Beatriz Luengo, and singer Ángel López of Son By Four (a group started by Alfanno), will be part of the lineup slated to pay tribute to Alfanno's musical career during LA MUSA AWARDS® at the second annual LSHOF gala on October 18 in Miami Beach.
Over the years, the composer has received numerous accolades, including the ASCAP Songwriter of the Year award on three occasions, as well as several Grammy nominations. Among the many hits written by Omar Alfanno are "Aparentemente" and "Esa Mujer," performed by Tony Vega; "Así es la Vida" and "Date Un Chance," sung by Luis Enrique; and "Conciencia" and "Que Alguien Me Diga," done by Gilberto Santa Rosa.
Alfanno's songs have helped launch the careers of such artists as Marc Anthony ("Y Hubo Alguien" and "Te Conozo Bien"), and Víctor Manuelle ("Hay Que Poner El Alma" and "Así Es La Mujer"), among others.
In 2000 Alfanno made musical history, breaking all records with his song "A Puro Dolor" (performed by Son By Four). The song was nominated for a Latin Grammy, sold four million copies worldwide, and for 21 weeks was #1 on the "Hot Latin Tracks " in Billboard magazine.
In December 2010, Billboard named him "Songwriter of the Decade.".He recently released a CD / DVD collection, "Omar Alfanno from Panama to the World" ("Omar Alfanno De Panamá Para El Mundo") which was recorded live during a concert in front of the historic tower of Panamá Viejo and where he first performed 21 of his biggest hits. Among the invited guests were Luis Enrique, Tony Vega, and Ángel López.
Among those invited to participate in the LSHOF tribute to Omar Alfanno is his good friend Luis Enrique, "El Príncipe de la Salsa" (The Prince of Salsa). With a career spanning more than 25 years and the winner of multiple awards, including the Grammy and three Latin Grammys, Luis Enrique is one of the world's greatest salsa musicians.
After the success of his last two albums, "Ciclos" (2009) and "Soy Y Seré" (2011), Luis Enrique will release a new production this week titled "JUKEBOX First Edition," an album of cover songs (in salsa versions) that includes eight of the singer's favorite hits, still remembered by so many people today. "JUKEBOX First Edition" includes "Noche de Copas," "Lo Pasado Pasado," "Tan Enamorados," "Te Amo," "Tengo Todo Excepto a Ti," "Amor de Cerca," "¿Cómo he de Vivir sin Tu Cariño?" and "Sin Ti."
This year, along with Omar Alfanno, three other internationally acclaimed stars of Latin music will also be inducted into the Latin Songwriters Hall of Fame. The inductees (songwriters, lyricists, and composers) for this year's Latin Songwriters Hall of Fame, and their countries of origin, are:
Gloria Estefan (Cuba) * Omar Alfanno (Panama)
Lolita De La Colina (México) * Rafael Pérez Botija (Spain)
The Latin Songwriters Hall Of Fame Induction Gala, LA MUSA AWARDS , will be honoring these world-famous Latin music creators for their unforgettable songs in both Spanish and Portuguese and will feature exciting performances and moving tributes by some of the most talented artists in the music world.
LA MUSA AWARDS® hosted by Eglantina Zingg will be held on October 18, 2014 at the Ritz-Carlton South Beach in Miami Beach. Tickets for the event are available at https://www.latinsonghall.com/ the webpage for LSHOF.
About Latin Songwriters Hall of Fame:
Latin Songwriters Hall of Fame is a non-profit educational organization founded by renowned songwriter/producers Desmond Child and Rudy Pérez in 2012 to honor and celebrate the songs and lives of the world's greatest Latin music creators. Songwriters, performers, musicians, producers, engineers, music critics, and industry executives comprise LSHOF's nominating committee
For more information visit: www.latinsonghall.org
Media Contacts:
Angela Rodríguez
AR Entertainment
Vice Chairperson of Media and Public Relations
Latin Songwriters Hall of Fame
acrent@aol.com
Maria Ines Sanchez
The Connection Hall
mariaines@theconnectionhall.com