Original Article-Billboard: 1/18/2016 by Leila Cobo
Songwriter, arranger and producer Pablo Manavello, whose work was instrumental in the careers of Latin superstars like Ricardo Montaner, Olga Tañón, Chayanne andRicky Martin, died unexpectedly on Monday (Jan. 18) in Miami. He was 65 years old.
"My musical style was born from Pablo Manavello," Montaner posted to Twitter. "From 'La cima del cielo' to 'La gloria de dios,' we've written and enjoyed music and life," he added, citing hits that spanned decades.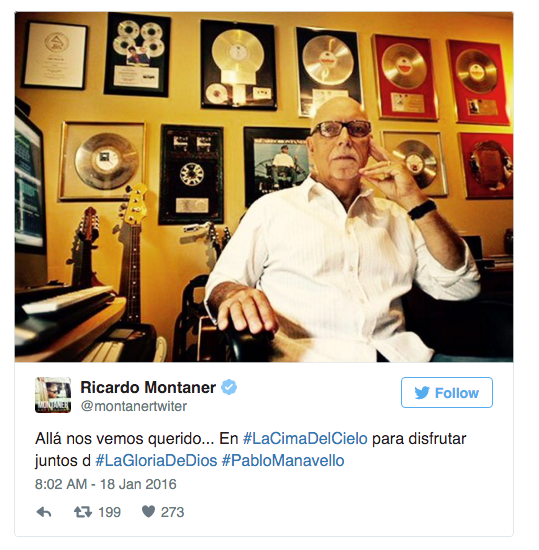 Born in Italy but raised in Venezuela, Manavello was an accomplished guitarist who started his career as a member of Venezuelan rock band Los Memphis. Although Manavello would go on to release several solo pop albums in Venezuela, beginning with 1979's Cosas Sencillas, his focus shifted after receiving a scholarship from the Venezuelan government to study film scoring at Berklee College of Music.
Manavello returned to Venezuela after graduating and worked actively as a soloist, arranger and composer for film and television. But his greatest early recognition came from the song "La Cima Del Cielo." Co-written with Montaner, it was the lead single from the singer-songwriter's 1990 album, Un Toque de Misterio. The track was a rousing pop song with a glorious melodic line elevated by Montaner's voice and became the singer's first major international hit.
Montaner would go back often to work with Manavello, whose highly melodic songs and grand arrangements suited Montaner's voice. Just last year, the two co-wrote "La Gloria de Dios," which Montaner recorded with his daughter Eva Luna, garnering over 125 million views for the video on Youtube.
Throughout his life, Manavello worked with numerous artists, both as a producer and songwriter, including Paralamas, Yolandita Monge, Alejandro Montaner, Luis Fonsi and Gary Burr.
Manavello was actively working at the time of his death. He was slated to give a songwriting master class as part of a Latin Songwriters Hall of Fame (LSHOF) program, and had just finished writing a musical work inspired by the pilgrimage to the Spanish city of Santiago de Compostela. Two days prior to his death, he played the music for producer and friend Rudy Perez, co-founder of LSHOF.
"Rudy says it was beautiful and that Pablo did a magnificent job composing and arranging these symphonic pieces," said Perez's wife Betsy Perez, executive director of LSHOF.
"Rudy, Desmond and everyone at the Latin Songwriters Hall of Fame would like to send our deepest condolences to Pablo's family," she told Billboard. "We have lost another musical great, but lets remember the great music he left us. We will honor, preserve and celebrate his songwriting legacy."
Aside from Montaner, numerous artists, producers and songwriters posted condolences on Twitter.
"The Latin Recording Academy profoundly laments the death of Pablo Manavello, friend and great teacher," read the post by the Latin Grammys.