BY JORDAN LEVIN
(Originally posted http://www.miamiherald.com/2012/11/25/3112667/miami-to-be-home-of-new-latin.html)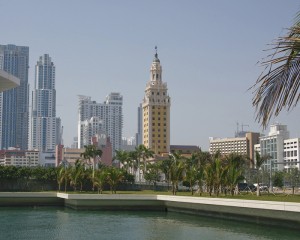 When Desmond Child was inducted into the Songwriters Hall of Fame in 2008, realizing a longtime dream, the experience was tarnished when he learned he was one of only three Latino composers among the ranks of such pop music greats as Lieber and Stoller, James Brown and Stephen Sondheim.
"Our music springs from a very rich well — the Latin music songwriting tradition in this hemisphere alone goes back 400 years," says Child, a Cuban-American native of Miami Beach who co-wrote Ricky Martin hits like Livin' La Vida Loca as well as songs for Aerosmith and Jon Bon Jovi.
"Without the men and women who create the songs, there is no Latin music, there are no Latin Grammys. The songs are the building blocks of the industry and a cultural force that goes all over the world."
When Child shared his concerns with colleagues, many suggested he reach out to Rudy Perez, a Miami Beach songwriter, also Cuban-American, who had been quietly pressing for recognition of his fellow Latinos for 16 years.
"Songwriters are the essence of music," says Perez, a longtime writer and producer for artists including Julio Iglesias, Beyonce and Luis Miguel. "They create the source. And no one in the Spanish-speaking world has given them their night of glory, their rightful place."
Just a year after joining forces, Perez and Child have created a way to honor Spanish- and Portuguese-language songwriters. On Dec. 4, they'll officially announce the launch of the Latin Songwriters Hall of Fame as well as its first 24 nominees in an event at the YoungArts Foundation's new home at the Bacardi Building in Miami. The Miami-based organization will induct its first five honorees at a gala on April 23.
Child, who is chairman and CEO, and Perez, the president of the new Hall of Fame, are looking for a building to house their venture, which they envision as a museum and research center on Latino composers and music history. They've conferred with community leaders including Miami Mayor Tomas Regalado and Milton Ruben Laufer, dean of music at the New World School of the Arts.
They've recruited a formidable group of music-industry heavyweights for the Hall of Fame board including producers Phil Ramone and Emilio Estefan, hit maker Diane Warren and major-label and music publishing executives, agents and musicians.
"We're blown away by the reception and how everyone is diving into this thing," says Perez, who compares it to how a similar group of music industry movers and shakers came together in the late '90s to create the Latin Grammys.
Much like the Latin Grammys, the Latin Songwriters Hall of Fame will be an independent entity that will be modeled after, overseen and given credibility by the American original. The inaugural Latin Songwriters ceremony will not be televised, but organizers plan to produce a documentary about the honorees and event.
The aim is to build recognition within the industry of Latino songwriters' achievements and their pivotal role in creating a rich musical culture across the Americas and into Europe.
From Mexico's Consuelo Velasquez ( Besame Mucho) to Cuba's Miguel Matamoros ( Lagrimas Negras, Son de la Loma), Latin composers have created a rich repository of standards that continue to be performed, recorded and loved.
"There are so many incredible writers that no one remembers who have paved the way for the contemporary songwriters of today," says Perez.
The new organization will be open to members from any country, who will vote on slates of nominees compiled by a smaller internal committee. Songwriters who made their first significant contribution to Latin music at least 20 years earlier will be eligible for consideration.
Like the Latin Grammys, the songwriters' organization will have to balance competing cultures: flamenco from Spain, ranchera from Mexico, son from Cuba, tango from Argentina and the enormous but somewhat separate world of Brazilian music.
But Child says love for the music transcends national boundaries.
"Especially in Latin America, governments come and go, governments that are fair or unfair, but music is the one thing we can all be united around," he says. "You hear a song that means Mexico and as a Latino you're proud of it. You hear a song that means Cuba, and every Latin can be proud of that song."