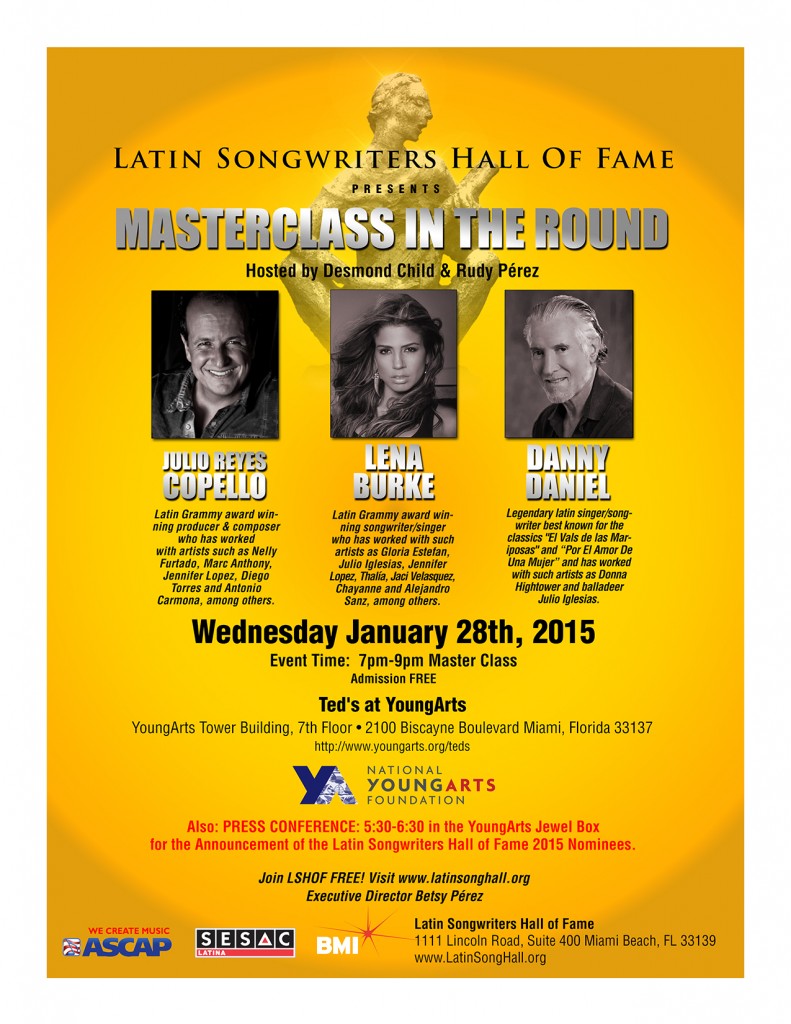 MASTERCLASS IN THE ROUND at Ted's YoungArts
DON'T MISS THIS VERY SPECIAL EVENT
Hosted by Desmond Child & Rudy Pérez
with world-renowned, award winning professionals:
JULIO REYES COPELLO, LENA BURKE and DANNY DANIEL
________________________________________________________________________
JULIO REYES COPELLO
Latin Grammy award winning producer & composer who has worked with artists such as Nelly Furtado, Marc Anthony, Jennifer Lopez, Diego Torres and Antonio Carmona, among others.
LENA BURKE
Latin Grammy award winning songwriter/singer who has worked with such artists as Gloria Estefan, Julio Iglesias, Jennifer Lopez, Thalía, Jaci Velasquez, Chayanne and Alejandro Sanz, among others.
DANNY DANIEL
Legendary latin singer/ songwriter best known for the classics "El Vals de las Mariposas" and "Por El Amor De Una Mujer" and has worked with such artists as Donna Hightower and balladeer Julio Iglesias.
________________________________________________________________________
MASTERCLASS IN THE ROUND at Ted's YoungArts
Wednesday, January 28th, 2015 | 7:00 – 9:00pm
Admission FREE – Signup here!
Ted's YoungArts
YoungArts Tower Building, 7th Floor
2100 Biscayne Boulevard Miami, Florida 33137
http://www.youngarts.org/teds
Also: PRESS CONFERENCE: 5:30-6:30 in the YoungArts Jewel Box for the Announcement of the Latin Songwriters Hall of Fame 2015 Nominees.
Executive Director Betsy Pérez