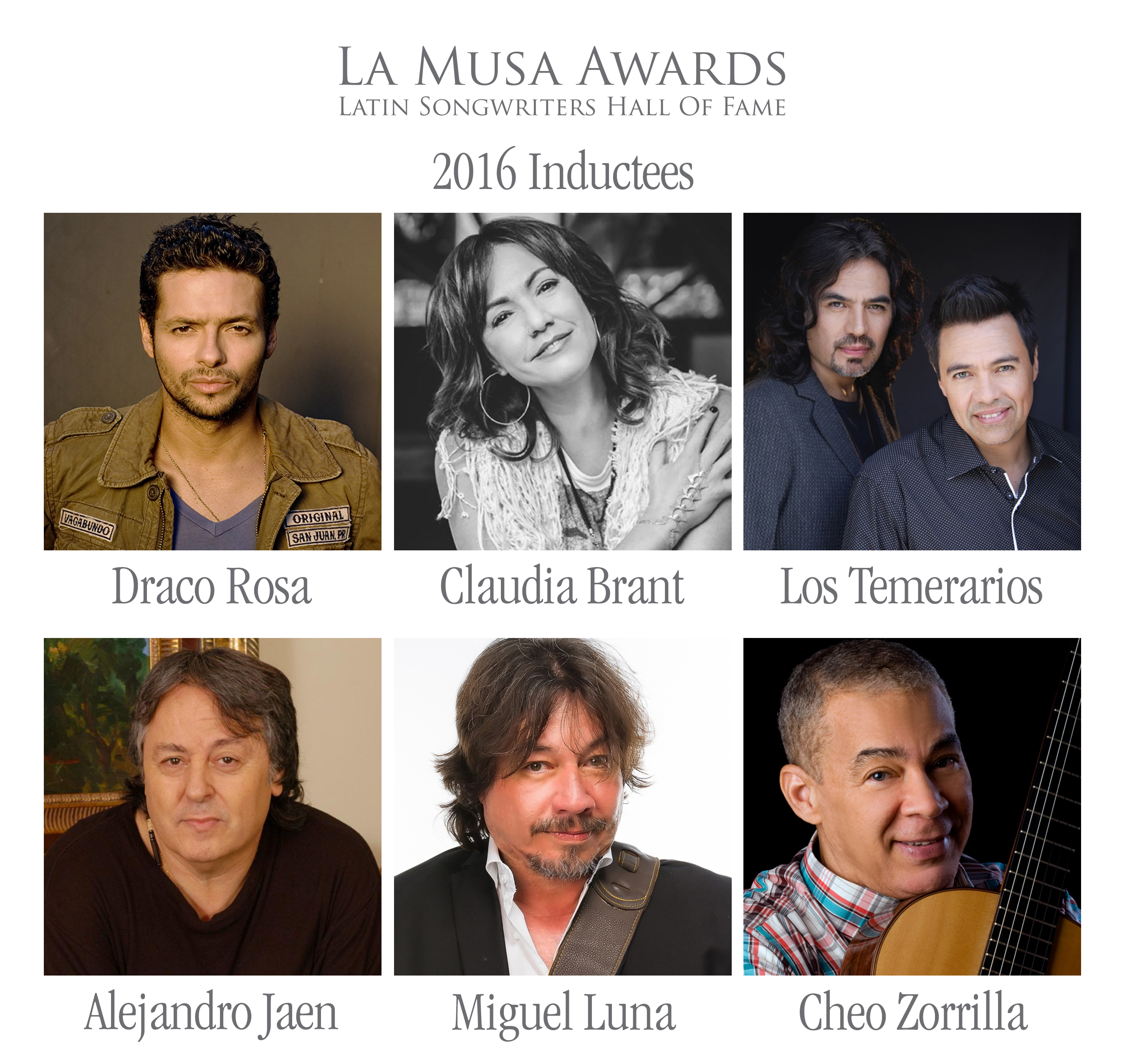 Latin Songwriters Hall Of Fame Announces 2016 Inductees
Miami Beach, Fla. (May 24, 2016) – The Latin Songwriters Hall of Fame announces the musical giants to be inducted at the 4th annual LA MUSA AWARDS Induction Ceremony including Los Temerarios (Adolfo & Gustavo Ángel Alba), Draco Rosa, Alejandro Jaen, Claudia Brant, Miguel Luna, and Cheo Zorilla.
The 2016 LA MUSA AWARDS will be held on Thursday, October 13th at The Fillmore Miami Beach Jackie Gleason Theater, directed by Richard Jay-Alexander, conducted by Eduardo Marturet (Miami Symphony Orchestra) and presented by WorldArts (WorldArts.com).
To be eligible for induction into the Latin Songwriters Hall of Fame the songwriter, composer or lyricist must have had their first published work released at least 20 years prior to the year of induction. All inductees are presented with the silver La Musa trophy statuette. Honorees are presented with bronze Musas created by world renowned sculptor Alan LeQuire.
Latin Songwriters Hall of Fame CEO Desmond Child said, "I am absolutely thrilled to be part of this great organization and feel extremely proud of this year's Inductees and their stunning career achievements." For LSHOF President Rudy Pérez, "The 2016 Inductees are some of the most inspired songwriters of all time. I always look forward to the LA MUSA AWARDS which is one of the year's most exciting nights when industry colleagues and competitors gather together as one community to celebrate the unsung heroes of Latin music… the songwriters."
LATIN SONGWRITERS HALL OF FAME 2016 INDUCTEES
Claudia Brant
Claudia Brant was born in Argentina and moved to California in 1998. Since, she has achieved an average of 40 recorded songs annually in different genres and languages (Spanish, Portuguese and English). Most of these recordings have been singles in the top of the Billboard charts. Claudia is a Latin Grammy® winner for Song of the Year in (09) and has been nominated 5 other times for the Grammys Latinos. She was awarded Compositora Latina Del Año by SESAC in 2007, 2008 and 2009, and ASCAP in 2012 and in 2015. Her collaboration song with Luis Fonsi "No I give up," was named Song of the Decade by Billboard and placed # 1 on the Latin charts with a record 19 consecutive weeks. She has collaborated with musicians and industry leaders such as Carlos Santana, Barbara Streisand, Josh Groban, Ricky Martin, Girls Generation, Michael Bublé, Fantasia, Il Volo, 5th Harmony, John Legend, Enrique Iglesias, The Tenors, Marc Anthony, Jennifer Lopez , Sie7e, Kaay, among others. In 2014, eight of their songs included in the Top 20 of Billboard. In 2015 she was nominated alongside Natalia Jiménez for a Latin Grammy in the category of "Best Song of the Year" for the title "Stick With It."
Alejandro Jaen
Alejandro Jaen is in his own right among the most revered and accomplished songwriters of Latin music. More than 800 of his songs have been recorded worldwide earning him more than 50 gold and platinum records for sales of more than 50 million copies of his works. Recipient of hundreds of industry awards Alejandro is known for his vast work stretching from classic ballads, European and American Pop to Flamenco, Tropical and orchestral music. He has worked as a producer with recording artists such as Jaci Velásquez, Son By Four, Gilberto Santarosa, Menudo, MDAs, Angelica Maria, Elvis Crespo, Melina León, Victor Manuel, Jerry Rivera, Huey Dunbar, Marc Anthony, Angelica Maria, Joan Sebastian Alvaro Torres, Daniel Santacruz, Jon Montalbán, Michele Khury and Gina Tarajano. Alejandro Jaen still making his mark in music promoting new talent and writing new hits for established artists. His work, vision and passion for music make Alejandro Jaen one of the most unique and unparalleled music creators in Latin music.
Miguel Luna
Miguel Luna composer, author and performer, was born in Torreon, Mexico. Miguel has arduously worked to earn him placements of original songs sung by almost all the great interpreters, crooners, soloists from Mexico and Latin America like Luis Miguel, Ricardo Arjona, Thalia, Banda El Recodo, Pedro Fernández, Intocable and Arrolladora Banda Limón, Cristian Castro, Heavy, Boundary, the Recoditos, Panda, Pablo Montero, Margarita Vargas, Mijares and Pepe Aguilar, to name a few. In 1997 Miguel recorded the, Espantapájaros (Scarecrow) album produced by Ricardo Arjona. Since earning first place in the Festival OTI of 1987, Miguel has earned countless of prestigious awards and recognitions. Some of his most important works are the classics: No Soy El Aire (Benjamin), Minutos (Ricardo Arjona) Casi Perfecto (Ana Cirré), El Amigo Que Se Fue (Untouchable), Oro (Bronco), Pupilas de Gato (Luis Miguel) and Invisible (Victor García).
Robi Draco Rosa
Robi Draco Rosa, also known as Draco Rosa or simply Draco, is a multi-Grammy and Latin Grammy® winning American-born Puerto Rican musician, singer, songwriter, composer, multi-instrumentalist, dancer, record producer and entrepreneur. Draco originally garnered fame as a member of boy band Menudo in the 1980s, singing lead to one of the band's biggest stateside hit, Hold Me and featured prominently in the accompanying music video. After leaving the band he moved to Brazil where he released two albums, achieving mainstream success. Afterwards he moved to California and formed the band Maggie's Dream, which split after only one album, allowing him to resume his solo career. The singer and composer has released numerous studio and experimental albums, the alternative rock album Vagabundo (96), Songbirds & Roosters (98), Libertad del Alma (01), Mad Love (04), Como Me Acuerdo (04), Draco y El Teatro del Absurdo (07), Vino (08), Amor Vincit Omnia (09), Vida (13). Before Vagabundo, Draco played an instrumental role in launching Ricky Martin's musical career into a new global setting with Vuelve. Rosa co-wrote and produced various of Martin's hit singles including María, Livin' La Vida Loca, La Copa de La Vida, She Bangs and Shake Your Bon-Bon. Rosa toured with Lenny Kravitz during the summer of 2004 to promote his concept álbum Mad Love. Rosa is a Non-Hodgkin Lymphoma survivor. In March 2013 he released his latest album Vida. This year, 2016, Hacienda Horizonte, his ranch in Utuado Puerto Rico, was opened to the public.
In 2013 Draco Rosa was awarded the Latin Songwriters Hall of Fame Conquistador Award (Premio Conquistador).
Los Temerarios
Founded by brothers Adolfo and Gustavo Ángel Alba in 1977 in Fresnillo, Zacatecas, Mexico, Los Temerarios have sold more than 45 million records and released 32 productions in their almost 40year career.They hold the record of having more #1's in the Top Latin Album sales in the history of the Latin Sales Charts in Billboard Magazine.  Eight of their albums have reached the #1 chart position and they have a total of 22 albums in the top 10 of the Hot Latin Album Charts. Among their many iconic compositions are Si Tu Te Vas, Una Lagrima No Basta, Te Hice Mal, Te Quiero, Ven Porque Te Necesito, Por Que Te Conoci, Mi Vida Eres Tu, Tu Infame Engaño, and Como Te Recuerdo. They have received multiple Grammy and Billboard Awards.  They have been immortalized with a Star on the Las Vegas Walk of The Stars / El Paseo De Las Estrellas De Las Vegas. Billboard Magazine refers to them as the most romantic group from Mexico.  Adolfo and Gustavo consider themselves the "peoples group".  They're currently on their 2016 World Tour and breaking records.
Cheo Zorilla
Cheo Zorrilla was born in Tamayo, in the Baoruco Province Dominican Republic. He studied music at the Music Academy of the municipality and at the age of 13 was named Trumpeter of the band. After high school he moved to the capital of Santo Domingo, and Puerto Rican vocalist Danny Rivera recorded his first song, Apocalipsis. Cheo participated in the Festival OTI held in Madrid (77) where he won second place for the song Al Nacer Cada Enero interpreted by Fernando Casado. In 1981 he won first place in the National Song Festival organized by the Association of Musicians (AMUCABA) with the song Sembrador. In 1983 the track obtained second place again in Festival OTI with the song Olvidar, Olvidar , sung by Taty Salas. Cheo is one of the most important romantic composers to have been come out of the Caribbean. Some of the most beloved balladeers of the 70s and 80s recorded his songs to great acclaim such as: Apocalipsis, Al Nacer Cada Enero, Con Las Alas Rotas, Los Hombres de Rabia Lloran (Danny Rivera); Se Me Secó La Piel (Chucho Avellanet and Basilio), Una Amante Asi (Sophy, Vickiana), Pero Llegaste Tu (Lalo Rodríguez) En Mí Más Amor No Cabe y Mi Amado Cirineo (in his own voice). His sons have also been recorded by Omayra, Mauro, Joseíto Mateo, Raul Grisanti, Nelson Muñoz, David Pavon, Tyra and others. For 3 years Cheo produced and hosted his own show Las Notas de Cheo by Televisa, Channel 41. In 2012, along with Julio Iglesias, Armando Manzanero, Juan Grabriel, Manuel Alejandro, Juan Luis Guerra, Jose Feliciano, Roberto Carlos and other composers and songwriters, he was first nominated to the Latin Songwriters Hall of Fame.
The 2016 Honorees and special tribute performers to be announced throughout the summer.
About the Latin Songwriters Hall of Fame
 The Latin Songwriters Hall Of Fame is a 501c3 non-profit organization founded by renowned songwriter/producers Desmond Child & Rudy Pérez in 2012 and modeled after the high standards set by the Songwriters Hall Of Fame. Our mission is to educate, preserve, honor and celebrate the lives and music of the world's greatest Latin songwriters, composers and lyricists in every genre while developing and inspiring new generations of music creators through master classes, workshops, scholarships and digital initiatives.
About WorldArts.com:
WorldArts is the premiere global resource for artists to connect directly with fans, brands, and industry professionals.  We offer artists live performance opportunities and an e-commerce platform to sell and license their music so they can monetize their career.  Our crowd funding platform allow fans to share in this journey by helping artists tour and continue producing their music.  Fans are also rewarded with exclusive offers and can share content so they can be a part of finding the 'next big thing'. Our mission is to bring the music world under one roof and make it a better place for everyone.  At WorldArts… it's all about the music.
Visit: www.latinsonghall.org
Press Contact: Blanca Lassalle – CreativeLink 212-684-6001 – blanca@creativelinkny.com / Sol Rivera – srl@creativelinkny.com