By Alexandra Gratereaux Fox News Latino (Original Article)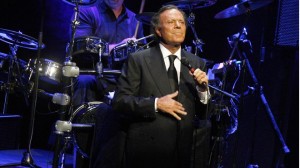 The first honorees of the Latin Songwriters Hall of Fame were announced this week in Miami Beach.
During the ceremony, six songwriters from the romantic Spanish-language era were recognized including Julio Iglesias and Jose Feliciano. The event was also the debut of the Latin Songwriters Hall of Fame organization, the first of its kind catered to Latin composers.
"There are so many great writers in the Latin world," said producer and songwriter Desmond Child, who helped create and shape the organization and ceremony.
"We are on a mission and we've now immortalized [these songwriters]," he added.
The event, which took place at the Bacardi Building in downtown Miami, home to the Young Arts Foundation, also included Mexican composer Armando Manzanero, who wrote such classics such as "Voy a apagar la luz" and "Contigo aprendi."
Child, who created the Latin Songwriters Hall of Fame along with veteran producer Rudy Perez, told Fox News Latino that despite it took a long time to get this event and organization running, it was all worth it.
"I've had cases when I was a big writer on a song and the label didn't put my name on the song," he said, adding that this organization will also be a support system for songwriters.
"[Then] I have a hard time getting paid and it's like WOW!"
Child gave FNL the example of Ricky Martin's "Living la vida loca," which he co-wrote along with Puerto Rican singer/producer Draco Rosa.
"If you Google 'Livin la vida loca' what comes up is written by Ricky Martin. He was a great performer of the song, but it was written by Draco Rosa and Desmond Child."
Other composers, such as Concha Valdez Miranda, were also recognized.
Miranda traveled to Miami from Cuba in the 60s and wrote favorites such as "La mitad" and "El viaje."
"We are a nonprofit organization dedicated to educate, preserve and honor the best Latin songwriters. We want to inspire new writers," Perez told Fox News Latino.