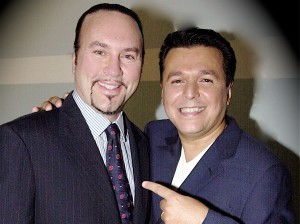 Newly formed non-profit organization seeks to honor the world's greatest Latin songwriters and their music in every genre
First 24 nominees will be announced soon!
MIAMI, FL. (November 14, 2012) – To honor the greatest Latin songwriters of all time. To pay due tribute to the composers that have given the world so many timeless classics, and to inspire, foster and nurture new generations of song and wordsmiths so that they may continue creating Latin music that crosses all borders and touches the soul.
Those are just some of the goals of the newly created Latin Songwriters Hall of Fame(LSHOF), as envisioned by founding members and Grammy-award winning producer/songwriters Desmond Child and Rudy Pérez.
Based out of Miami, the world's capital of Latin music, the Latin Songwriters Hall of Fame began as a dream. Un sueño.
A dream held for 16 years by Child and Pérez who, with the support of key figures in the music, entertainment, media relations, and publicity worlds, and under the auspices of the Songwriters Hall of Fame in New York City, got together on October 18, 2012, in South Beach, to make history and establish LSHOF.
Specifically, singers, songwriters, producers, recording engineers, music publishers, performing rights organization representatives, artist managers and music and television business executives joined forces to create a non-profit educational organization that Hispanics in the United States and everywhere around the world will be proud of.
This amazing journey began with a nominating committee choosing 24 names, of which 5 will be chosen as inductees. Ceremonies for both events will be announced soon!
To select those 24 candidates, from all regions of the Spanish and Portuguese-speaking worlds, was not an easy task. But handling that responsibility with the utmost respect and admiration was an executive committee that includes renowned producer, composer, musician and performer Desmond Child, as Chairman/CEO, Board of Directors of the Songwriters Hall of Fame; veteran music producer and songwriter Rudy Pérez as President; and led by Vice-Chairman of the Nominating Committee, Olga Maria Touzet Guillot as well as an Executive Board of Directors, with industry heavyweights Freddy DeMann, Eddy Cue, EmilioEstefan, Zach Horowitz, Phil Ramone, Sergio George, Tony Mojena, among others; a Board of Directors, featuring legendary record producer Jellybean Benítez as Vice-Chairman of Membership & Social Media, and other important colleagues; well-known publicists Charlie Cinnamon and Angela Rodríguez as Co-Vice-Chairpersons of Media and Public Relations, Leila Cobo (Executive Director Latin Content & Programming, Billboard) forms part of the Media Public Relations Group, Bruno del Granado (CEO RM Entertainment Group) has been named Co-Vice-Chairman of Television and Production, and many more movers and shakers of the music and entertainment industries.
The fruit of this labor of love is an international organization that will fill a void in the music business. Please stay tuned for further exciting developments of the Latin Songwriters Hall of Fame!