By Justino Aguila Billboard.com (original Article)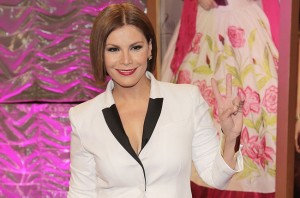 The Latin Songwriters Hall of Fame — in association with Billboard — will have its inaugural induction ceremony on April 23, and will honor some of the music industry's most established names including Grammy-winning Olga Tañon who will receive special recognition for her career achievements.
The black tie gala, taking place at the New World Center in Miami beach, will pay tribute to Latin music's most iconic songwriters including Manuel Alejandro (Spain), Jose Angel Espinoza "Ferrusquilla" (Mexico), Jose Feliciano (Puerto Rico), Julio Iglesias (Spain), Armando Manzanero (Mexico) and Concha Valdéz Miranda (Cuba).
Actor Carlos Ponce and actress/model Eglantina Zingg will host the ceremony and Gary Lindsay will be conducting the show's orchestra.
The new organization, established as a non-profit, was founded by Desmond Child and Ruby Perez. The intent of the group is to "honor the world's greatest Latin songwriters and their music in every genre."
Tributes are also planned for Nat King Cole, Olga Guillot, Ralph S. Peer, Draco Rosa, Prince Royce and Consuelo Velazquez.
Tañon, who will be given the Premio La Voz de La Musa, will be joined by honorees and performers including Jon Secada, Alicastro, Lucie Arnaz, Angélica Aragón, Rubén Blades, Michael Bolton, Buika, Cabas, Roberto Cantoral, Jr., Luz Casal, Natalie Cole, Aida Cuevas, Plácido Domingo Jr., Dyango, Jose Feliciano, Michelle Fragoso, Carlos Gomez, Olga Maria Touzet Guillot, Arthur Hanlon, Natalia Jiménez, José José, Milton Ruben Laufer, Maria Martha Serra Lima, Claes Nobel, Horacio Palencia, Rudy Perez, Gabriel Ramos, Reyli, Yul Vazquez, Mariano Rivera Velazquez, Jimmy Webb, Mauricio Zeilic, Eglantina Zingg and Hernaldo Zúñiga.)