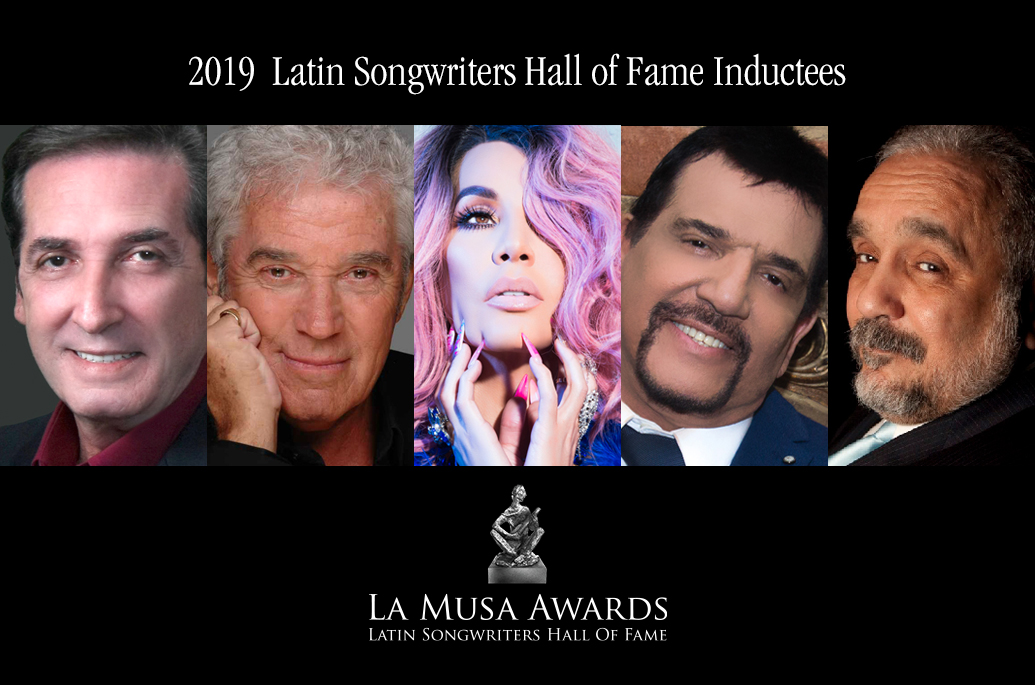 Miami, Fla. May 13, 2019 Committed to championing and honoring Latino excellence across all musical genres, the Board of Directors and Officers of theLatin Songwriters Hall of Fame (LSHOF) are proud to announce the names of the five musical titans to be welcomed this year into the esteemed hall during the 7th Annual LA MUSA AWARDS.
Selected by the general public from a previously announced list of 24 nominated songwriters and composers, which represented nearly a dozen nations from all over the Americas and the Iberian Peninsula, these five artists are as eclectic as they are singularly brilliant.
Celebrating Latin music in all its beautiful diversity and unique artistry, this year's group of inductees is comprised of some of the greatest performers, lyricists, and musicians in Latin music today. Their sensibilities and styles provide a glimpse into the rich cultural tapestry that defines Latin creativity and artistic innovation.
The illustrious 2019 inductees are: Puerto Rican reggaeton trailblazer Ivy Queen ("Quiero Bailar," "Que Lloren"); Puerto Rican legendary music icon, Willie Colón ("Aguanile," "La Murga," "Sin Poderte Hablar"); Brazilian composer, musician, producer, and singer Michael Sullivan ("Um Dia De Domingo," "Me Dê Motivo"); Argentine composer and singer Chico Novarro ("Algo Contigo," "Cantata a Buenos Aires"); and Cuban composer, pianist, and arranger Armando Larrinaga ("Un Millón de Rosas," "Me Estoy Enamorando," "Vida").
To be eligible for induction into the Latin Songwriters Hall of Fame the songwriter, composer or lyricist must have had their first published work released at least 20 years prior to the year of induction. All inductees are presented with the silver LA MUSA trophy statuette. Honorees are presented with bronze Musas created by world-renowned sculptor Alan LeQuire.
Latin Songwriters Hall of Fame Chairman/CEO, Rudy Pérez and President, Delia Orjuela said, "We are absolutely delighted to be able to welcome this outstanding Class of 2019 Inductees into the ranks of the world's greatest songwriters and composers of the Latin Songwriters Hall of Fame. Their invaluable contributions to the world, prove the vital importance of diverse expression and the immeasurable and unifying power of music. These esteemed music creators make us proud, and we are thrilled to recognize their life's work and long-standing commitment to excellence with this honor."
This year's Class of 2019 will be officially inducted into the Latin Songwriters Hall Of Fame at the 7th annual LA MUSA AWARDS to take place October 24th at the James L. Knight Center in Miami.
About Ivy Queen 
The undisputed queen of reggaeton and a trailblazer for women in a genre often dominated by men, Puerto Rican performer and composer Ivy Queen has been one of the strongest and most important figures in the Latin urban genre for over 20 years. Her ascend to stardom began when she was 18-years-old, as she was forced to carve a space for her strident voice to be heard. Her lyrics condemn violence against women, demand respect, and empower anyone who's ever felt oppressed. Songs like "Quiero Bailar," "Que Lloren," and "Cuéntale" have become anthems for an entire generation of young women who found an idol in the fearless artist. Ivy has been honored with several recognitions including multiple Latin Billboard Awards, a Premio Lo Nuestro for Urban Album of the Year, a special honor at Premios Juventud (Diva Award), 3 Latin GRAMMY® nominations and multiple BMI awards for her iconic hits.
About Willie Colón:
Willie Colón is a legendary trombonist, composer, bandleader, arranger, singer, actor, and social activist who helped to popularize salsa music in the United States in the 1970s. During his 50 years in the music business, his achievements have been internationally recognized with numerous awards worldwide including, the Latin GRAMMY Lifetime Achievement Award, the Ellis Island Medal of Honor, the Lunas Del Auditorio Award and many others. As a songwriter he has been responsible for evergreen Latin hits among them, "Aguanile," "Ah, Ah O No," "Abuelita," "La Murga," "El Todopoderoso," "El Malo," "Ghana E," "Juancito," "La Banda," "No Me Llores Mas," "Pan y Agua," "Si La Ves," "Sin Poderte Hablar," "Todo Tiene Su Final," "Juana Peña," "Calle Luna, Calle Sol," "Che, Che, Cole," "El Dia de Suerte." Colón has had numerous hits as a solo artist including the Gold and Platinum Latin albums 'Solo' and 'Fantasmas,' which included hits like "Sin Poderte Hablar," and the mega-hit "El Gran Varón." He has had various collaborations throughout his career, including a number of hit albums with The Queen of Latin Music, Cuban salsa singer Celia Cruz, which included the international hits "Usted Abusó," and  "Dos Jueyes" during the 70's and 80's; in 1978 renowned singer-songwriter Rubén Blades collaborated in his album 'Siembra' (which became one of the most popular and biggest selling albums in the salsa genre) and "Tras La Tormenta" (1995); in the 70's he had a featured project with La Fania legends, Hector LaVoe & Yomo Toro in his perennial production 'Asalto Navideño' (Vol I and II); versatile Venezuelan vocalist Soledad Bravo; salsa star Ismael Miranda which included "No Me Digan Que Es Muy Tarde Ya" (1980); Puerto Rican singer Sophy in her production "Salsa en New York" (1983); and rock new wave musician David Byrne in the album 'Rei Momo' (1989).
About Armando Larrinaga
Born in Havana, Cuban composer, arranger, and pianist Armando Larrinaga started his career performing across the island as part of multiple musical groups and quartets during the 1960s and 1970s. As a composer he is best known for his songs "Me Estoy Enamorando," "Vida," and "Un Millón de Rosas," made famous by La Mafia in the 90's. Most recently, Marc Anthony recorded "Vida" for his 2010 album "Iconos."  Other voices that have recorded his songs are: Jerry Rivera, José Feliciano, Cristian Castro, Rocío Durcal, Pedro Fernandez, etc. He has been bestowed with multiple ASCAP Awards, and other accolades such as Premio Lo Nuestro and Latin Billboard. Larrinaga has also been recognized by the Grammy Academy for his contribution on multiple award-winning artists.
About Michael Sullivan
Legendary Brazilian composer, singer, musician, and producer Michael Sullivan is considered the most prolific and successful Brazilian songwriter of our time, with more than 2000 recorded songs by Brazilian, Hispanic and Global artists, released in 60 markets in Latin and North Americas, Europe, Asia and Middle East regions. Throughout his incredible career, Sullivan has performed in successful groups and as a solo artist in multiple genres from ballads to gospel and has sold 60 million albums and received 60 Diamond, 270 Platinum and 550 Gold Awards. Portuguese-language songs such as "Me Dê Motivo" and "Um Dia De Domingo" are two of his most acclaimed compositions among a long list of other popular hits. Michael Sullivan has also produced and composed tracks for some of the biggest names in Latin music included Ricky Martin, Chayanne, Ana Gabriel, Menudo, Yuri, and Robi Rosa among many others.
About Chico Novarro
Celebrated Argentine singer and composer Chico Novarro has had a prolific career spanning 60 years from his early days when he began writing tangos to an extensive discography of nearly 30 original albums and 600 songs. Among his most prominent compositions is the bolero "Algo Contigo," which has been recorded in a variety of genres by notable artists such as: Vicentico, Rosario, Andrés Calamaro, Mariachi Vargas, Fidel Rueda. Novarro is also behind iconic songs such as: "Cómo," "Arráncame la Vida," "El Último Acto," "Nuestro Balance," "Amnesia," "Debut y Despedida," "Cuenta Conmigo" and popular tangos such as: "Cantata a Buenos Aires," "Cordón" "Un Sábado Más," "El Último Round," and "Sueño de Coupé." Other artists that have recorded his songs are: Luis Miguel, José José, Olga Guillot, Djavan, among others. In 2014 the Argentine government honored him with the title of Illustrious Citizen of Buenos Aires for his contributions to music and culture.
About Latin Songwriters Hall Of Fame
The Latin Songwriters Hall of Fame is a 501c3 non-profit organization founded in 2012 by renowned songwriter/producers Desmond Child and Rudy Pérez. LSHOF's mission is to educate, honor and celebrate the lives and music of the world's greatest Latin Songwriters and Composers as well as inspiring new generations of music creators through master classes, workshops, scholarships and digital initiatives
Press Contact:
Dario Molina / Monica Escobar
The 3 Collective
dario@the3collective.com / monica@the3collective.com
www.the3collective.com