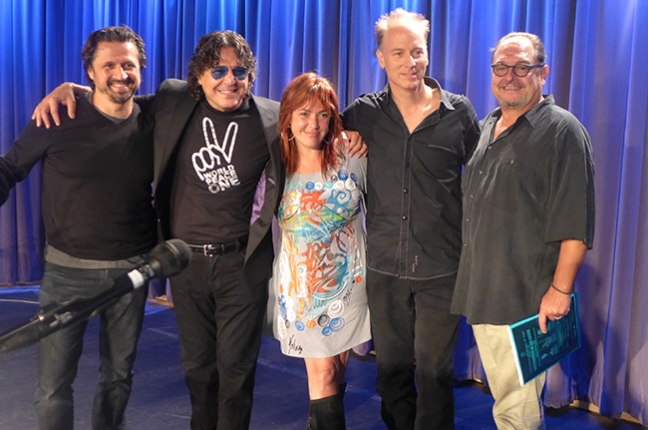 Billboard Original Article | By Justino Aguila
Their names may not be as widely recognized as Ricky Martin and Carlos Santana, but their lyrics and songs have been heard around the globe. The songwriters featured at the Latin Songwriters Hall of Fame's "Masterclass in the Round" have written some of the most iconic compositions and are rock stars in their own right.
Uforia Music Fest Brings Together Latin & Hip-Hop in L.A.
Three of these veteran songwriters — Aureo Baqueiro, Claudia Brant and KC Porter — took to the stage at the L.A. Live Grammy Museum on Thursday to tell the stories behind some of their signature hits, how the writing process works for them and what it takes to be creative in a competitive field.
For Brant, it's the collaborations with artists that have allowed her to flourish. The writer, who has worked with Santana, Michael Bublé and John Legend performed a heartwarming rendition of the song "Ice-El Hielo," which she co-wrote with the Los Angeles-based band La Santa Cecilia. The song is about immigration and it was composed at Brant's home, where she worked with lead vocalist La Marisoul and the band members to chart out the song's musical direction.
"This is a song that would never go to No. 1 on the charts and I really don't care," Brant said, who added that earlier this year La Santa Cecilia took home a Grammy. "They [the band] come from very humble families. They are incredible, real and honest. They deserved to win the Grammy."
For the California-born Porter — an arranger, composer and producer — working with everyone from Martin to Los Fabulosos Cadillacs and Michael Jackson, the writing process is heavily influenced by his travels to Latin America.
Porter performed "La Pared" for the audience, who he drew in to sing a verse from the composition also about immigration. "My roots and my heart is really in Latin America," said the composer, adding that singing and writing in Spanish is essential for his creative vision.
Baqueiro, who hails from Mexico, performed the romantic ballad "Te Voy a Perder," which he originally presented to a Latin pop group that rejected it. He put the song away for a couple of years before he reintroduced it to Mexican singer Alejandro Fernandez, who loved it and made the song a success.
"I started as a songwriter, and that was the only thing I wanted to do growing up," Baqueiro said. "I kind of just wanted to sing my own songs."
All songwriters agreed that one of the best things about writing music is how the community of writers gets to know each other and find support among each other, which can often lead to collaborations.
"You get to work with people like these masters and then you become friends," said Brant, who was also the evening's host. "Then you have these really amazing friendships."
Porter said that while there is room for all kinds of music, it's important for songwriters to bring integrity to projects that help elevate music.
"It's about moral responsibility," Porter said. "I try to instill that value into the artists that I produce or people I write with. We as artists/songwriters have a greater responsibility to communicate … to uplift the condition of mankind and it's not easy."
As for the discipline of writing music, the songwriters also agreed that there should be a consistency when it comes to honing skills and writing music.
Brant writes daily with the exception of Wednesdays and weekends. Porter, too, writes regularly and gets inspired by even the sounds from his backyard.
Baqueiro finds inspiration at any time during the day, which may be why he's often late when he's in the writing zone, much to the chagrin of his wife.
"There are some songs that you feel are special," Baqueiro concedes. "For me [it's a special song] when time goes by and I really don't remember [the time]. It's when I think I do my best work."
The Latin Songwriters Hall of Fame, a nonprofit, was founded by Desmond Child and Rudy Perez with the intent of honoring the greatest Latin songwriters and their music in all genres. The second annual induction gala will be held Oct. 18 at the Ritz-Carlton in Miami.