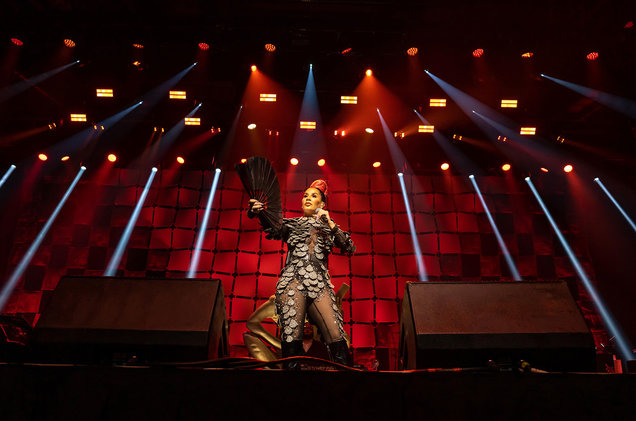 Original Article by Leila Cobo BILLBOARD
The 2019 La Musa Latin Songwriter's Hall of Fame awards were a musical tour de force, beginning with performances by Willie Colón and ending with Elvis Crespo. In the middle, Thursday night's (Oct. 24) 7th annual awards show at the James L. Knight Center in Miami hosted by iHeart Latino chairman Enrique Santos honored a bevvy of Latin stars and top industry executives who in turn were introduced and fetted by a parade of stars.
Performers for the evening included Colón, a salsa icon and trailblazer who was inducted into the Songwriters Hall of Fame; Draco Rosa; Kany García (who received the Elena Casals Award); Diego Torres (who performed in honor of Argentine composer Chico Novarro); and Luis Fonsi, who in one of the evening's highlights, performed "Despacito" as part of a medley honoring Universal Music Latin America/Iberian Peninsula Chairman/CEO Jesús López.
Another highlight was a set from regional Mexican singer/songwriter Luciano Luna, whose performance with a traditional Mexican sinaloense brass band was a first for the event. And Puerto Rican reggaetonera Ivy Queen was inducted into the Latin Songwriters Hall of Fame after performing a medley of hits that included "Te He Querido" and her classic female anthem "Quiero Bailar."
The evening was as much a celebration of songwriting as it was about underscoring the relationship between songwriting and the industry. Sir Lucian Grainge, chairman and CEO of Universal Music Group, presented López with the Desi Arnaz Pioneer Award, calling him a "true visionary" and a "real music man," able to "seize on a sound or a hook and translate it into a global hit."
López, in turn spoke about industry, but overwhelmingly, about musical legacy. "It is the most important thing that remains," he said before the medley of hits including Fonsi's "Despacito."
Willard Audritz, the head of Kobalt, introduced Nestor Casonú, Kobalt's president for Latin America, who was the recipient of the Ralph S. Peer publisher's award and received it from his writer Carlos Vives. Casonú, who in the past year has signed Ozuna, Anuel and Karol G to his roster, recalled his beginnings in publishing, when he "didn't know what a publisher did."
Emotional moments of the evening included a heartfelt tribute to José José, who was slated to be honored that night but passed away last month. "My father wanted to be here; you have no idea," said daughter Sarita who picked up his award. "Without you my father wouldn't have been José José." Also honored was guitarist Dan Warner, who died unexpectedly last month and who had always played with the La Musa house band. He was remembered by La Musa founders Rudy Perez and Desmond Child with Luis Enrique performing "Yo no se mañana," which Warner had arranged.
Later in the evening, Pitbull, receiving the Icon award, gave a motivational speech that centered on ownership of cotent and music and punctuated the importance of education, with students from his SLAM Academy in attendance.
The grand finale were rousing performances by Ivy Queen and Elvis Crespo, whose "Suavemente" won the Latin Song of All Times award.