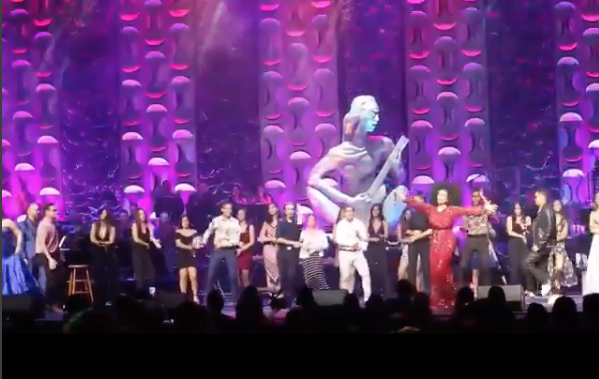 Latin Songwriters Hall Of Fame 6th Annual LA MUSA AWARDS Directed by Richard Jay- Alexander & Presented by Spotify at the James L. Knight Center Thursday October 18th Honors The Greats Of Latin Music Including Raphael, Victor Manuelle, Karol G, Gente de Zona & Descemer Bueno
"The 2018 LA MUSA AWARDS ceremony was one for the books, honoring, as tradition holds, the world's greatest Latin music creators and their memorable songs." Billboard
Miami, Florida October 22nd, 2018 – Latin Songwriters Hall Of Fame Co-Founders, CEO & Chairman Desmond Child & President Rudy Pérez opened the 6th annual LA MUSA AWARDS presented by Spotify and directed by Richard Jay-Alexander and music direction by Jon Rose, on October 18th at the James L. Knight Center by introducing Cuban singer, composer and producer, Descemer Bueno, recipient of the La Musa Conqueror Award, performing his composition "Bailando." Followed by host Ektor Rivera presenting Spanish icon, Raphael, with the "Living Legend Award" who performed his classic song "Mi Gran Noche." and received the first of the evening's eight standing ovations.
Aymeé Nuviola introduced and inducted Cuban Latin Jazz legend, pianist & composer, Chucho Valdés who performed his masterpiece "Mambo Influenciado" accompanied by the thirty-five piece orchestra. Latin Songwriters Hall Of Fame 2016 Inductee, Claudia Brant inducted Fernando Osorio who performed his Celia Cruz hit "Rie y Llora" featuring Sergio George on piano.
Gente de Zona was honored with Triumph Award by host Ektor Rivera and performed their hit single "Te Duele." Colombian singer, Karol G was presented with La Musa Elena Casals Award, performing her hit of "Pineapple."
On behalf of her father, Cuban Bolero Maestro, Rene Touzet, Olga Maria Touzet Guillot, accepted his posthumous induction and performed "No Te Importe Saber," "La Noche de Anoche" & "Oye Abre Tus Ojos."
Leonel Garcia of Sin Bandera honored Ralph S. Peer Award recipient Alejandra Lioutikoff with a special performance of "Bailar" including tributes by Mary Megan Peer Deputy CEO of Peer Music & Jody Gerson, Chairman of Universal Music Publishing Group.
Eydie Gormé, was honored with the Desi Arnaz Pioneer Award for her groundbreaking Spanish language albums with Los Panchos. To posthumously accept on her behalf was her son, David Lawrence, who performed a moving tribute medley of "Sabor A Mi" & "La Ultima Noche" as his father Steve Lawrence proudly watched on from the audience.
Director Richard Jay-Alexander (The Diva Whisperer) introduced British singer-songwriter, Maisy Kay, who performed "Colour", a song she composed in the mythical Na'vi language for her new upcoming album "Dreamwalker" inspired by the James Cameron epic film Avatar.
In a tribute to legendary music executive Karen Sherry, recipient of the La Musa Founders Awards, Co-Founders Desmond Child & Rudy Pérez introduced Puerto Rican singer, actress and television host Nydia Caro, who introduced Valerie Simpson who was joined on-stage by Erika Ender ("Despacito") to perform Simpson's MoTown Classic "Aint No Mountain High Enough" which she co-wrote with her husband and singing partner, the late Nick Ashford.
One of the night's most stunning surprises was when Emilio Estefan walked on to the stage to present the La Musa Icon Award to this year's Honoree, Puerto Rican mega-star, Victor Manuelle. He performed his hits "Si Te Dijeron" & "Tengo Ganas."
Another breathtaking moment was when Mexico's Gloria Trevi, inducted by Desmond Child, tearfully thanked her fans for their love and support through her difficult times and triumphs, followed by a thrilling performance of some of her biggest hits "El Recuento De Los Daño," "Con Los Ojos Cerrados," "Todos Me Miran" & "El Favor De La Soledad."
The LA MUSA AWARDS 2018 concluded with an explosive finale performance of the La Musa Song Of All Times, "MACARENA", written by Los Del Rio, performed by Aymeé Nuviola, Gente De Zona, Marlow Rosado, Silvestre Dangond, Cachita Lopez joined by 30 young dancers from Latins In Action Everglades High School featuring The Powder Puff Boys.
2018 LA MUSA AWARDS
Featuring Performances by:
Gloria Trevi
Victor Manuelle
Chucho Valdes
Aymeé Noviola
Descemer Bueno
Gente de Zona
Marlow Rosado
Valerie Simpson & Erika Ender
Olga Maria Touzet Guillot
David Lawrence
Leonel Garcia
Karol G.
Maisy Kay
Silvestre Dangond
Israel Brito & Susan Quiroga
Fernando Osorio & Sergio George
Latins In Action Everglades High School
Feat. The Powder Puff Boys
About Latin Songwriters Hall Of Fame
The Latin Songwriters Hall Of Fame is a 501c3 non-profit organization founded by renowned songwriter/producers Desmond Child & Rudy Pérez in 2012 and modeled after the high standards set by the Songwriters Hall Of Fame. Our mission is to educate, preserve, honor and celebrate the lives and music of the world's greatest Latin songwriters, composers and lyricists in every genre while developing and inspiring new generations of music creators through master classes, workshops, scholarships and digital initiatives.
Press Contact: Sbedrosian@rogersandcowan.com/212-878-5005
Event Photos: https://www.latinsonghall.com/downloads/2018-LA-MUSA-AWARDS-PHOTOS.zip
More Info: https://www.latinsonghall.com