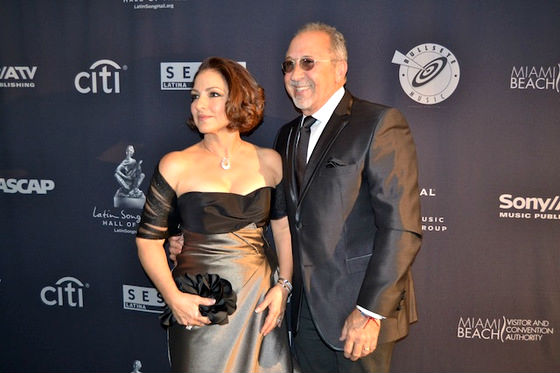 By Carolina del Busto / MiamiNewTimes.com
It was a night of glitz at the Ritz for the Latin Songwriters Hall of Fame's La Musa Awards Gala. The swanky hotel was filled with big names from the Latin music world, including producers and songwriters (and LSHOF co-founders) Desmond Child and Rudy Perez, as well as David Bisbal, Alejandro Sanz, and Jon Secada.
Miami's own Gloria Estefan was among the four new inductees and the tribute to her was certainly one of the highlights of the evening.
Also receiving the honor of induction into the LSHOF were Panama's Omar Alfanno, Spain's Rafael Pérez-Botija, and Mexico's Lolita de la Colina.
Hosted by Eglantina Zingg, the evening began promptly at 8 p.m., and Omar Alfanno was the first honoree to be inducted. Then after de la Colina and Perez-Botija received their induction awards and the other 2014 honorees received theirs, it was time for the most famous singer-songwriter of the night to get her own Musa.
"After 61 years, to do something for the first time is very difficult," began Gloria's husband and longtime bandmate Emilio as the couple took the stage. He described the evening as a "family reunion" for all the Latin songwriters and performers in attendance.
"For me, more than anything, I want to celebrate all these musicians, because without them we wouldn't be here… Tonight is a celebration of our Hispanic heritage, and tonight, all of us Latinos, no matter where we come from, are united."
Turning to Gloria, he sweetly said, "Babe, apart from you being a great wife, a great mother, and a great daughter, you are a great Latina. Congratulations!"
Holding the La Musa statuette tightly in her hands, Gloria took the microphone and gave a beautiful speech — all without cue cards or a teleprompter. It came straight from the heart.
"Thank you so much!" Estefan enthused. "I'm going to give you an inside scoop: that song that the wonderful Ednita Nazario sang ('Rhythm is Gonna Get You'), that song was originally called 'The Boogieman's Gonna Get You.' My drummer and I co-wrote it and I told him I'm a mother, I'm a wife, I'm not singing 'the boogieman's gonna get you.' So I told him, 'you know what is gonna get everybody? Our Afro-Cuban rhythms that are in this song subtly woven into a two-four dance beat.'
Looking back on decades of struggle and stardom, Estefan said: "Given the chance to fly and go all over the world and still celebrate my Cuban heritage, which we were so worried that we were going to lose, and that's what we've tried to do throughout our career. We're so blessed, all of us in this room, to live at what we love, which is to make music.
"To make those human connections with people that we may never meet, all over the world," she marveled, "and we somehow become part of their special moments. To be at their weddings, at the death of a loved one, at the moment where they can't say to the person they love the words because it doesn't come to them, yet one of our songs somehow fills that spot. To create a web of unity throughout the world — and I really can't imagine a better way to live."
At a time when the industry is struggling, Gloria reaffirmed the subtler rewards of making music: "I know we're going through some tough times — the business side of it — but one of my favorite people, Ben Franklin, said that if you have something that you need to share with the world, it doesn't matter whether you get paid. We would do it for free. We would do it so that everyone would hear our songs and our words, and what we want to share."
She ended with a thank you to the LSOF founders, praise for her fellow songwriters, and a tribute to the enduring power of music.
"Muchas gracias, Rudy y Desmond por este premio ha compositores, the unsung heroes," Gloria said. "Everybody remembers who sang the songs, but not everybody can answer who wrote the song. So, to everyone in this room that inspired me, because music got me through some of the toughest moments of my life — the biggest blessing for me is when someone tells me that my music has helped them through a tough time, helped them tell their loved ones they love them, or just comforted them. Music got me through some really, really tough moments, and I am so honored and blessed to be here tonight among these amazing honorees. Thank you!"