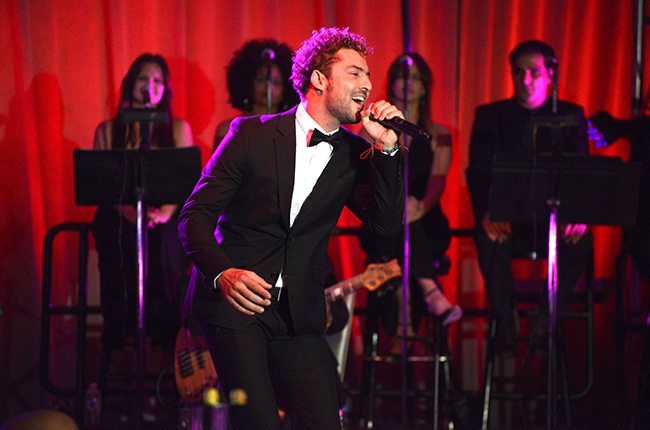 Billboard By Leila Cobo, Miami, Image by Manny Hernandez
The second annual La Musa Awards presented by the Latin Songwriters Hall of Fame was an eminently musical and emotional affair whose elegant execution bodes well for its future and growth. While last year's inaugural event featured a smorgasbord of talent, this year's event at the ballroom in the Ritz Carlton in Miami Beach was smaller but far more impactful, and featured a string of outstanding performances from the likes of Alejandro Sanz, David Bisbal, Jencarlos Canela, Diego Torres, Jon Secada and R&B Singer Miguel, who was awarded the Triunfador (Champion) award.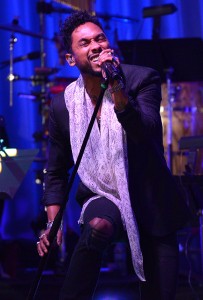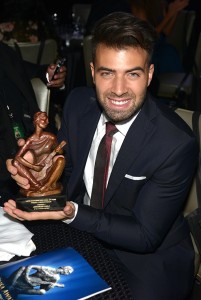 "I appreciate that you've included me in such a prestigious event," said Miguel, whose father is Mexican American. "I'll try to do my best to honor the Latin community."
And the evening was a wide-reaching celebration of that community, ranging from emerging bright stars who have already found remarkable chart success like Canela, who received the "Luchador" (Fighter) award, to Sanz, a 15-time Latin Grammy and three-time Grammy winner.
Four composers — Gloria Estefan, Omar Alfanno, Lolita de la Colina and Rafael Pérez Botija — were inducted into the LSHOF. Although the mainstream may only be familiar with Estefan (who as a songwriter has penned many of her greatest hits, along with tracks for Shakira, Secada and Celia Cruz), the others have also penned some of the most memorable music in the Latin songbook, and were celebrated with performances by Bisbal (for Perez Botija) and ranchero singer Rafael Negrete (for de la Colina). Estefan was serenaded by Puerto Rican star Ednita Nazario, who was later joined by Secada and a gospel chorus, performing Estefan's life-changing hit "Coming Out of the Dark."
"Music has helped me in some of the toughest moments of my life," said Estefan in her acceptance speech, no doubt referring to that particular song, which she wrote after the traffic accident that almost left her paralyzed in 1990.
Gloria Estefan, Ricardo Arjona Among Latin Songwriters Hall of Fame 2014 Inductees
On his end, Alfanno, who has had over 300 songs recorded in his career, performed a medley of hits along with friends Beatriz Luengo, Luis Enrique and Angel López of Son by Four, the group that originally recorded "A puro dolor" in 2000. The track was Billboard's Latin song of the decade based on airplay. Also honored was salsero Marlow Rosado with the La Musa Elena Casals award.
The gala not only acknowledged music-makers. Zach Horowitz, the legendary record executive who was most recently Chairman/CEO of Universal Music Publishing Group, was given the Publishers award for a career that long supported Latin music and Latin music makers. Horowitz, who was instrumental in growing Universal's Latin division was serenaded Oscar-award winning producer and artist Gustavo Santaolalla.
"He has promoted Latin music like no other executive from the mainstream world has ever done," said Santaolalla. "It is because of Zach Horowitz that I'm here and I mean it in the most profound way."
Honored posthumously with the Desi Arnaz Pioneer Award was the late media mogul Pablo Raul Alarcon, founder of the powerful SBS radio network and media company. His son Raul Alarcón, SBS' current chairman/CEO accepted the award with an emotional speech that reminded the room of the real reason for celebration.
"My father loved music," he said. "He loved musicians. When I was little, we used to live in New York and he would come home after work every nigh with a bunch of vinyl records under his arm arm, and regardless of the time he'd put those records on and crank the volume. He was a music man, my father."
All told, said Alarcón, songs have played more than 34 million times over SBS stations since the network was created in the mid 1980s.
Latin Songwriters Hall of Fame is a non-profit educational organization founded by renowned songwriter/producers Desmond Child and Rudy Pérez in 2012 to honor and celebrate Latin music creators. Created under the auspices of the Songwriter's Hall of Fame, its nominating committee is comprised by songwriters, performers, musicians, producers, engineers, music critics, and industry executives. The La Musa (The Muse) award was inspired by Child's mother, poet and songwriter Elena Casals