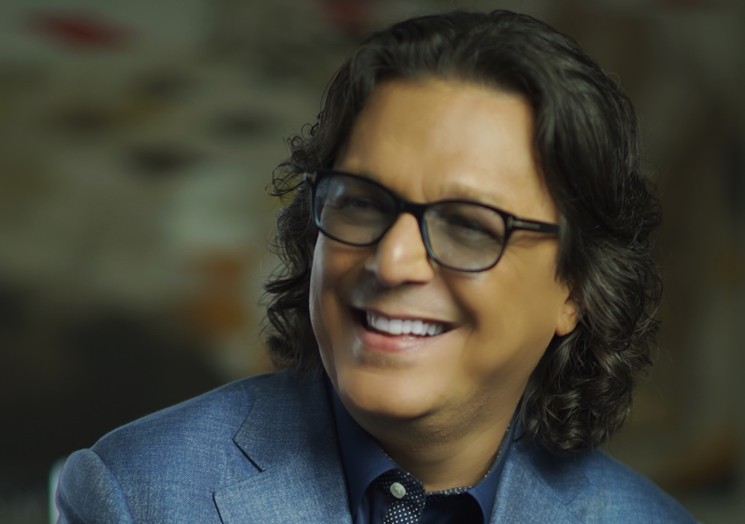 TRAVIS COHEN | MIAMI NEW TIMES
Once in a while, a song comes to define a moment in your life. One track might remind of when you first fell in love; another might take you back to the first time you traveled alone or to a friend you spent time with years ago. These are the songs that become the soundtracks to our lives, the songs that tell our stories.
Before they become our stories, though, these songs have stories all their own, written by songwriters who craft and compose measure after measure of music that connects with us in ways that are deeply personal yet universal. They are the hidden masters, and far too often they go unrecognized for the magic they perform — especially in the world of Latin music, which serves as the score for so many lives in Miami.
Which is why the Latin Songwriters Hall of Fame was formed. Founded by songwriting icons Rudy Pérez and Desmond Child, it seeks to immortalize the accomplishments of songwriters across the Latin world, from the Caribbean to South America to Spain. And this Thursday night, artists with careers that span much of the past century will come together at the James L. Knight Center for the sixth-annual La Musa Gala.
Pérez and Child made the perfect founding team for the Latin Songwriters Hall of Fame. Having produced some 70 albums and composed more than 1,000 songs, Pérez has worked with everyone from Luis Miguel to Beyoncé. In 2010, Billboard named him producer of the decade. Child, who was inducted into the Songwriters Hall of Fame in 2008, has a storied songwriting career that includes an eclectic mix of hits, from Aerosmith's "Dude (Looks Like a Lady)" to Ricky Martin's "Livin' La Vida Loca."
The show also honors some relative newcomers through special awards. Cuban reggaeton band Gente de Zona, best known for the 2016 megahit "La Gozadera," will receive the Premio Triunfador. Miguel, Wisin, and Fonseca are all previous recipients of the award. Karol G, the Latin trap singer-songwriter from Colombia, will accept the Elena Casals La Musa Award.
This isn't just a night for industry insiders, though. The show is as much concert as ceremony, with inductees and honorees performing alongside the Miami Symphony Orchestra and an all-star house backing band. The artists are also encouraged to work with the show producers — musicians such as Pérez and Child who have decades of experience composing and arranging — to tweak their songs and create something special for the event.
But as excited as Pérez gets about the show as a whole, the man is a songwriter at heart, and the opportunity to pay homage to the greats who have shaped the musical landscape of his life is what moves him most.
"That's what it's all about for me," Pérez says, "all those writers that are going into the hall of fame, because it's so deserved. For years, these guys have been the metal pillars inside the buildings. You take a look at the skyscrapers in New York and you see the beautiful outside of the building, but you don't see the pillars and bars that are holding that building up. Those are the songwriters, the unsung heroes."

Latin Songwriters Hall of Fame La Musa Awards. 8 p.m. Thursday, October 18, at James L. Knight Center, 400 SE Second Ave., Miami; 305-416-5978;latinsonghall.com. Tickets cost $38 to $107 via ticketmaster.com.