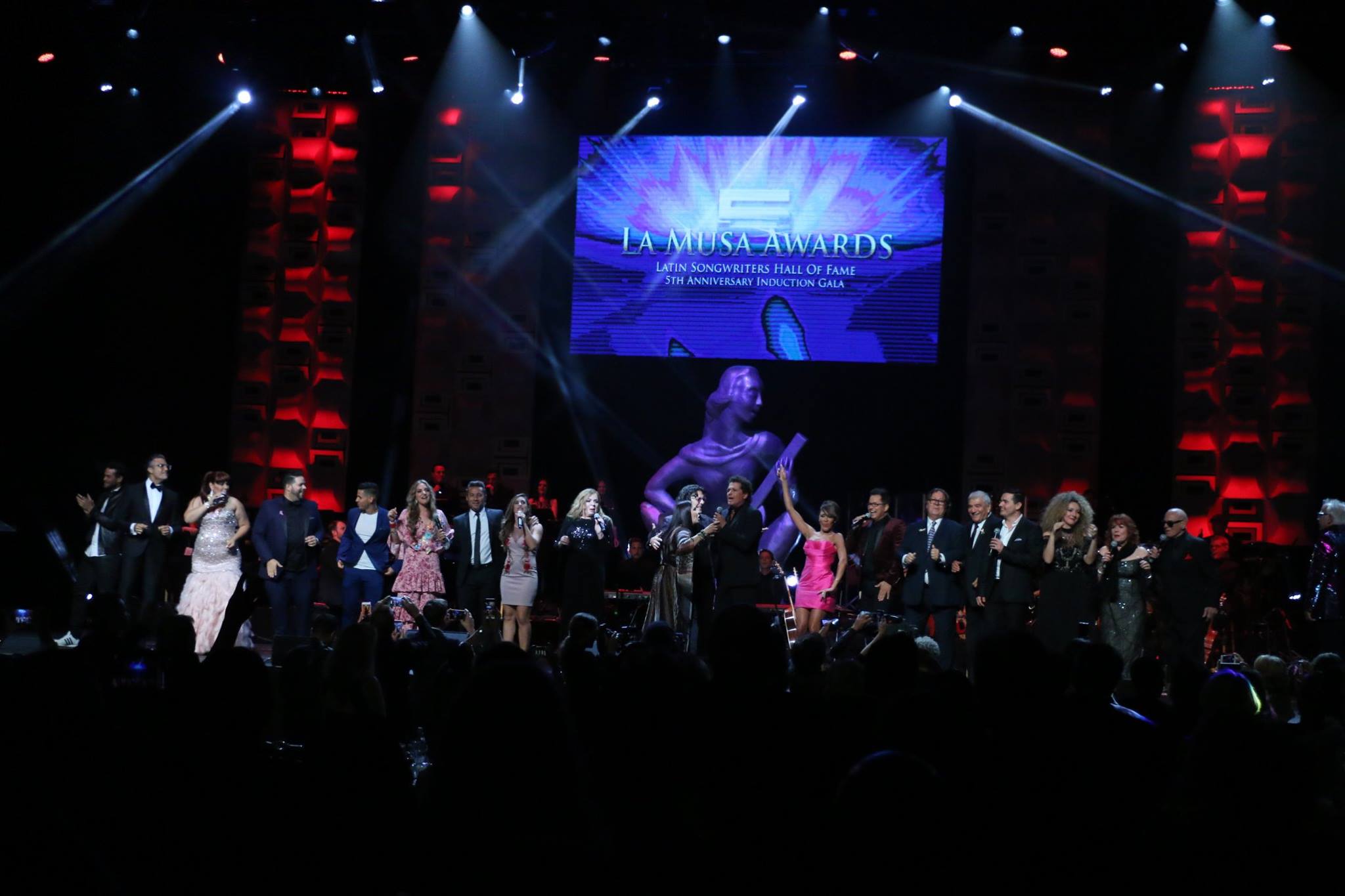 Erika Ender, Ana Gabriel, Roberto Livi, Martin Urieta, Carlos Vives, & Camilo Sesto Inducted Into The Latin Songwriters Hall Of Fame And Presented With Prestigious La Musa Award During The Memorable LA MUSA AWARDS Ceremony At The James L. Knight Center In Miami
Additional honors presented to:
Carlos Vives "Icon Award"
Ednita Nazario "The Elena Casals Award"
Wisin "Victory Award"
Ralph S. Peer II "Ralph Peer Editors Award"
Afo Verde "Pioneer Desi Arnaz Award"
Horacio Placencia "Premio Conquistador"
Julio Jaramillo "Legacy Award"
La Bamba "Song Of All Time"
Despacito "Iheartradio Song Of The Year"
Gustavo Cerati "Posthumous Award"
(MIAMI, October 20, 2017) – Last night, The Latin Song Writers Hall of Fame (LSHOF), celebrated some of the most successful and beloved songwriters and performers of Latin music during the memorable 2017 LA MUSA AWARDS ceremony at the James L. Knight Center. At the fifth annual gala hosted by actor Jaime Camil, Erika Ender, Ana Gabriel, Roberto Livi, Martin Urieta, Carlos Vives, and Camilo Sesto were inducted into the prestigious LATIN SONG WRITERS HALL OF FAME.
The LATIN SONGWRITERS HALL OF FAME LA MUSA AWARDS 2017 ceremony made music history with unforgettable moments and music tributes: Draco Rosa and Diego Torres captured the audience with their electric rock dedication to Gustavo Cerati. After his induction, Roberto Livi brought the house down when he paused his set and asked Ana Gabriel up to the stage to sing with Vicky Carr, in their first live encounter in many years.
No less moving was Martin Urieta's words and sentiment for immigrants. Ednita Nazario offered a riveting and heart gripping musical tribute to Puerto Rico, and Carlos Vives gave the audience an additional exclusive musical gift with an acapella tune that made the audience ask for more.
The late and great Julio Jaramillo received the "Legacy Award" and Gustavo Cerati the "Posthumous Award."
Horacio Placencia was inducted by BMI Vice President of Latin Music within Broadcast Music, Delia Orjuela. Jaime Camil inducted Mexican icon Ana Gabriel who sang, "Simplemente Amigos;" Argentine folksinger Soledad Pastorutti sang "Brindis" and presented Afo Verde with his honor.
Acclaimed singer Camilo Sesto, performed the international hit, "Vivir asi es morir de amor," Erika Ender received an additional recognition from iHeartRadio's Enrique Santos for Song of the Year "Despacito;" and the night closed with a grand finale of the Song of All Times, "La Bamba."
The evening included additional performances and the participation of many entertainment luminaries like: Kany Garcia, Carlos Rivera, Alejandro Jaen, Jon Secada, Fernando Varela, Maisy Kay, among others.
The 2017 Latin Songwriters Hall of Fame LA MUSA AWARD ceremony was a special evening. Amidst one of the worst seasons of natural disasters causing catastrophic loss of life in Mexico, the Southern Coast of the United States, Puerto Rico, and the Caribbean, Latin stars reminded audiences that songwriting and music are important and as relevant as ever.
About the Latin Songwriters Hall of Fame
The Latin Songwriters Hall of Fame is a 501c3 non-profit organization founded by renowned songwriters/producers Desmond Child and Rudy Perez in 2012 and modeled after the high standards set by the Songwriters Hall of Fame. Our mission is to educate, preserve, honor and celebrate the lives and music of the world's greatest Latin songwriters, composers and lyricists in every genre while developing and inspiring new generations of music creators through master classes, workshops, scholarships and digital initiatives. For more information about the Latin Songwriters Hall of Fame and the 5th annual LA MUSA Awards visit www.latinsonghall.com
Press contact:
Blanca Lassalle | blanca@creativelinkny.com | 917-678-6704
Sol Rivera | srl@creativelinkny.com | 917-627-9097