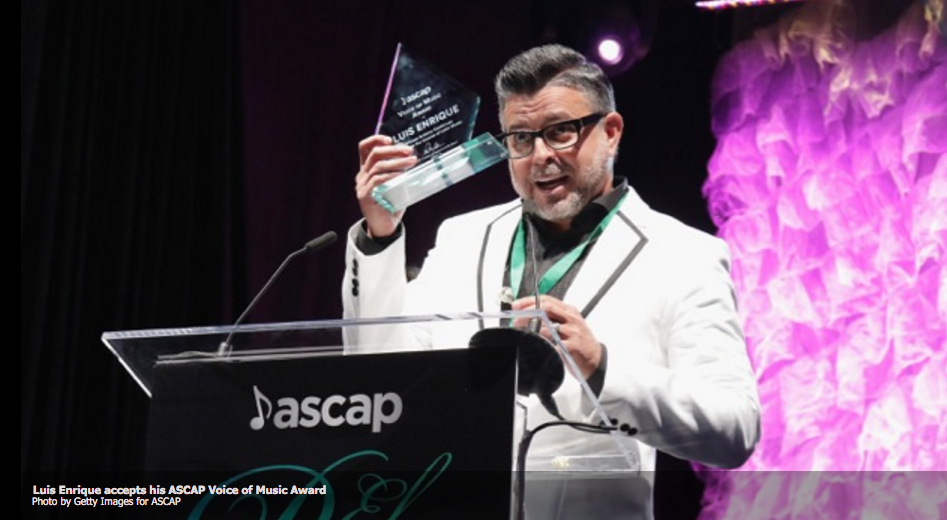 Miami, FL May 11, 2016: Joss Favela was named Songwriter of the Year and Romeo Santos was named Songwriter/Artist of the Year at the 24th annual ASCAP Latin Music Awards, held tonight at The Ritz-Carlton Hotel in Miami Beach, FL. ASCAP President Paul Williams was joined by ASCAP Vice President Latin Gabriela Gonzalez to present the award to Joss Favela, just days after Favela released his debut album, Hecho a Mano. This is the first time that Favela has received the Songwriter of the Year award and Romeo Santos' sixth win in that category.
The songwriters and publishers of ASCAP's most performed songs in Latin Music in 2015 were also recognized during the invite-only awards ceremony.
ASCAP CEO Elizabeth Matthews and Executive Vice President, Membership John Titta presented thePublisher of the Year award to Sony/ATV Discos Music Publishing for the 14th consecutive year, and the Independent Publisher of the Year to Mayimba Music for the fourth year in a row. The Latin Song of the Year award went to "Hilito" (written by Romeo Santos; published by Mayimba Music and Palabras de Romeo).
Univision radio personality Enrique Santos hosted the all-star gathering, which featured performances by some of Latin music's hottest stars. Joss Favela and Luis Enrique sang medleys of their biggest hits;Natalia Lafourcade played her Latin Grammy winner "Hasta La Raiz." Gente De Zona ("La Gozadera"), Pedro Capó & Yotuel with Beatriz Luengo ("La Mordidita"), Pablo Lopez ("Tu Enemigo") and Daniel Santacruz ("Culpa Al Corazón") also performed.
Winning songwriters and Latin music stars in attendance also included Andrés Castro, Antonio Barullo, Claudia Brant, Descemer Bueno, Diana Reyes, Farruko, Jonatan Sánchez, Kany Garcia, Mari Pili Rivera, Natalia Jimenez, Obie Bermudez, Rudy Perez and Shaila Durcal.
Awards were presented throughout the evening in the following categories: Pop, Tropical, Regional Mexican, Urban and Television.
Complete List of Winners
About ASCAP
The American Society of Composers, Authors and Publishers (ASCAP) is a professional membership organization of songwriters, composers and music publishers of every kind of music. ASCAP's mission is to license and promote the music of its members and foreign affiliates, obtain fair compensation for the public performance of their works and to distribute the royalties that it collects based upon those performances. ASCAP members write the world's best-loved music and ASCAP has pioneered the efficient licensing of that music to hundreds of thousands of enterprises who use it to add value to their business – from bars, restaurants and retail, to radio, TV and cable, to Internet, mobile services and more. The ASCAP license offers an efficient solution for businesses to legally perform ASCAP music while respecting the right of songwriters and composers to be paid fairly. With 575,000 members representing more than 10 million copyrighted works, ASCAP is the worldwide leader in performance royalties, service and advocacy for songwriters and composers, and the only American performing rights organization (PRO) owned and governed by its writer and publisher members. Learn more and stay in touch at www.ascap.com, on Twitter @ASCAP and on Facebook.