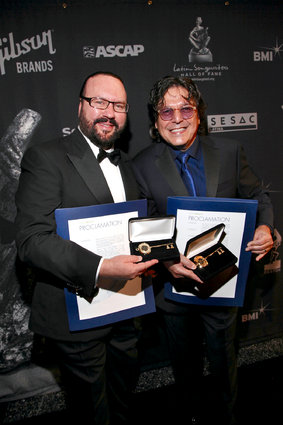 The Huffington Post | Por Mandy Fridmann
Los compositores y cantantes se vistieron de fiesta para participar de la segunda gala anual de los Latin Songwriters Hall of Fame La Musa Awards en el hotel The Ritz Carlton de South Beach, Florida.
Sus creadores, los compositores Desmond Child y Rudy Pérez, recibieron la Llave de la Ciudad de Miami por su labor de reconocer a los compositores más influyentes de la música latina.
Por segundo año consecutivo Eglantina Zingg y René Lavan fueron los encargados de conducir el evento que estuvo lleno de talentos.
Entre las estrellas participaron estuvieron: Alejandro Sanz, Gloria y Emilio Estefan, Jencarlos Canela, Luis Enrique, David Bisbal, Natalia Jiménez, Jon Secada, Gustavo Santaolalla, Ednita Nazario, Érika Ender, Miguel, Diego Torres, Claudia Brant, Ismael Cala, Leila Cobo, Raúl Alarcón Jr, Zach Horowitz, Rafael Negrete, Ángel López, Beatriz Luengo, Gabriel Mores, Ralph Peer II, Lucia Méndez, Mauricio Zeilic, X Alfonso, Marlow Rosado y De La Torre.
Este año, Gloria Estefan, Omar Alfanno, Lolita De La Colina y Rafael Pérez Botija fueron los elejidos para entrar al Pabellón De La Fama De Los Compositores Latinos (Latin Songwriters Hall of Fame, LSHOF) por ser los cantautores y compositores más influyentes de la música latina.
Uno de los momentos más conmovedores fue cuando Ednita Nazario homenajeó a Gloria Estefan cantando sus mejores canciones.