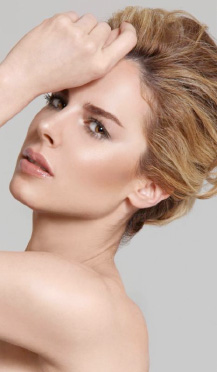 Singer Diego Torres joins all-star tribute to the greats of Latin music.
LA MUSA AWARDS will be held on October 18 in the city of Miami Beach
Miami, Fla. (September 26, 2014) – Desmond Child (Chairman/CEO) andRudy Pérez (President), founders of the Latin Songwriters Hall of Fame, announced today that the internationally famous actress, model and social activistEglantina Zingg will host the LA MUSA AWARDS™ to be held during the organization's 2nd Annual Gala.
"Eglantina Zingg is a consummate entertainer and an inspiring symbol of Latina power in America and the rest of the world. She is a star in her own right and no one could be more perfect to preside over LA MUSA AWARDS," said Child and Pérez in a joint statement. "We are thrilled that Eglantina will return again this year to be our host. She has the style, elegance and charisma to bring a high tone to this historic event and all the fun."
Zingg will be center stage handling hosting duties at LA MUSA AWARDS which will honor and induct into it's hall of fame Latin music's most influential internationally acclaimed performing songwriters, lyricists and composers. The 2014 Latin Songwriters Hall of Fame Inductees are (listed by country of origen):Gloria Estefan (Cuba), Omar Alfanno (Panama), Lolita De La Colina (Mexico) and Rafael Pérez Botija (Spain).
Alejandro Sanz, Ednita Nazario, MIguel, Diego Torres, Jencarlos Canela,Jon Secada, David Bisbal, Natalia Jiménez, Gustavo Santaolalla, De La Torre and many other presenters, and honored guests will attend this year's ceremony.
Zingg, who hosted last year's LA MUSA AWARDS with actor/singer Carlos Ponce, is the founder of Project Peace Latin America, which helps to empower children. Most recently, on Sept 21, Peace Day, she continued her efforts with the children of San Pedro de Macorís in the Dominican Republic.
The Latin Songwriters Hall Of Fame Induction Gala, LA MUSA AWARDS™, will be honoring these world-famous Latin music creators for their unforgettable songs in both Spanish and Portuguese and will feature exciting performances and moving tributes by some of the most talented artists in the music world.
LA MUSA AWARDS™ hosted by Eglantina Zingg will be held on October 18, 2014 at the Ritz-Carlton South Beach in Miami Beach. Tickets for the event are
available at https://www.latinsonghall.com/ the webpage for LSHOF.
About Latin Songwriters Hall of Fame:
Latin Songwriters Hall of Fame is a non-profit educational organization founded by renowned songwriter/producers Desmond Child and Rudy Pérez in 2012 to honor and celebrate the songs and lives of the world's greatest Latin music creators. Songwriters, performers, musicians, producers, engineers, music critics, and industry executives comprise LSHOF's nominating committee
For more information visit: www.latinsonghall.org
Media Contacts:
Angela Rodríguez
AR Entertainment
Vice Chairperson of Media and Public Relations
Latin Songwriters Hall of Fame
acrent@aol.com
Maria Ines Sanchez
The Connection Hall
mariaines@theconnectionhall.com