Latin Songwriters Hall of Fame Opens Honoring Julio Iglesias, Jose Feliciano
By Alexandra Gratereaux Fox News Latino (Original Article)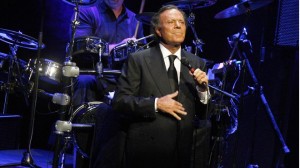 The first honorees of the Latin Songwriters Hall of Fame were announced this week in Miami Beach.
During the ceremony, six songwriters from the romantic Spanish-language era were recognized including Julio Iglesias and Jose Feliciano. The event was also the debut of the Latin Songwriters Hall of Fame organization, the first of its kind catered to Latin composers.
"There are so many great writers in the Latin world," said producer and songwriter Desmond Child, who helped create and shape the organization and ceremony.
"We are on a mission and we've now immortalized [these songwriters]," he added.
The event, which took place at the Bacardi Building in downtown Miami, home to the Young Arts Foundation, also included Mexican composer Armando Manzanero, who wrote such classics such as "Voy a apagar la luz" and "Contigo aprendi." (more…)